Photo Travelogue :
Read first part -
Here
!
I might as well inform here that if you are alone you may not be allowed inside the 2nd main entrance of the fort, at Nandi Hills, as it happened with me. I was flatly refused to be allowed in, to explore further on my own. Reason being, they don't allow any single person inside the vast premises, for the fear of suicides that occur there every year
( or some may get lost too )
. Hearing the first bit, I was flabbergasted to say the least. I tried to argue with the watchmen, if I wanted to commit suicide I wouldn't travel so far, I can jump from my building in Bombay itself. I mean WTF reason was that! But they wouldn't budge. No meant a strict no! But I was adamant too, I didn't come up here, all the way, only to return from the gate of the premises. I was in a fix - how on earth to convince them that I had no intention of committing suicide at all. Atlast, I got a plan and suggested the extra watchman
( on duty )
to come in as my guide of the place. I told them, I'll take a quick tour and click pictures, that's it. And that way, he'll constantly be by my side, I wouldn't be alone and he could fill me up with history of the place too. It was like killing 3 birds with one stone. They were reluctant at first, but after I literally begged, they agreed on my paying Rs.100/- to the chap for the guided tour, besides the entrance ticket of 50 bucks.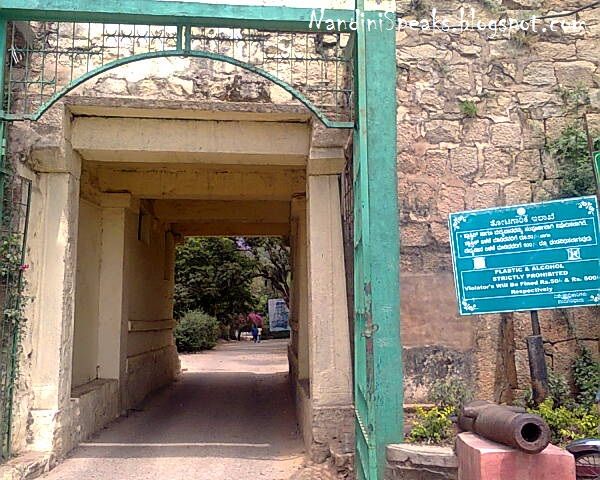 So, thank heavens, I managed to get inside at last. The place is filled with greenery and with many structures of historical importance. Prominent ones being the water tank and summer Palace of Tipu Sultan. There are some ancient temples further up the hill
( Sri Bhoga Narasimha, Sri Ugra Narasimha, Sri Yoga Narasimha and the Gavi Veerbhadra Swamy temple @1km distance uphill, accessible by steps inside or vehicle route from outside );
and the famous
( or infamous )
Tipu's Drop
( from where Tipu Sultan had his condemned prisoners thrown to death ).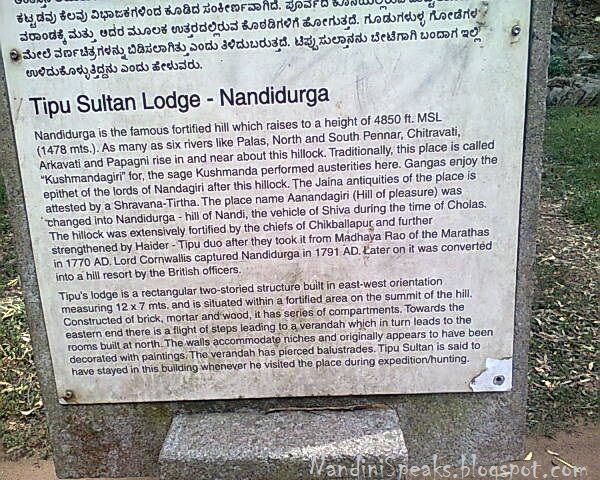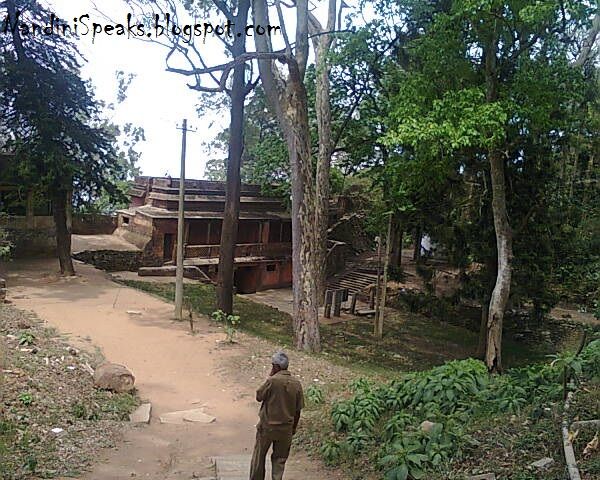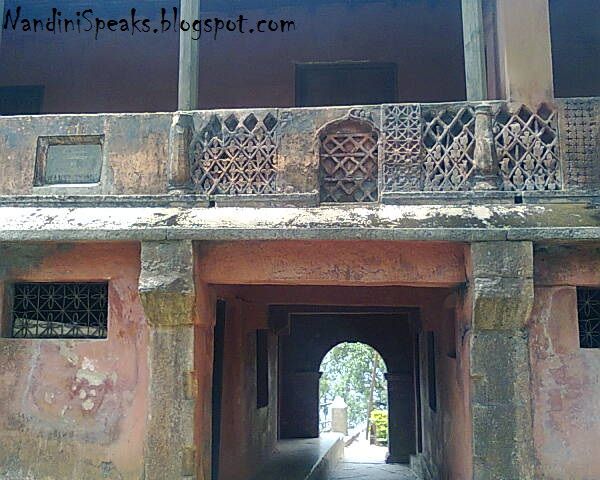 Tipu's Summer Palace and Fort - During the Ganga period, the Chikkaballapur chieftains built a fort. Tipu strengthened it further and also build a rest house inside it. This used to be Tipu's summer bungalow/palace. This heritage site is not open to the general public. The pink coloured structure is quite old, and we were not allowed inside
( though I spotted someone inside on the upper-floor - not a tourist though, maybe some staff there )
.
There's also an artificially made water-tank near the palace. Infact, there's quite a few natural ones too, further up, that's said to be the sources of Pennar, Palar and Arkavati Rivers
( though most of them have dried up )
. Amruth Sarovar, a beautiful water lake situated here
however
, brims with lucid water all the year round.
There are many other attractions on the hill besides the ones mentioned. They are : The Secret Escape Route - which is a secret passage on the west, an escape route for kings during unforeseen attacks; The Horse Way - on the North-eastern side of the fort, is a stone door-way that is believed to have been the horse way for helping soldiers to climb the wall on horse back; A Children's Playground - maintained by the Horticulture department
( HDI )
, is a lovely garden for children to play games like the slides, merry-go-round, swings etc. It is ideal for tourists too, to relax and take in the serene atmosphere. The place is full of greenery, with lots of exotic plants and trees ~ like Eucalyptus and undergrowth of Coffea arabica, along with some native species. As such, there's plenty of birds and other fauna too, to be found here - making it just the perfect place for bird/nature lovers and photographers.
There is also the Nehru Nilaya - where Jawaharlal Nehru used to stay, and is now a guest house of the HDI. Gandhi House, where the Mahatma himself stayed, is under the management of DPAR (Protocol) Govt of Karnataka, and is reserved for the stay of important dignitaries. Brahmashram - a place where Sage Ramakrishna meditated. Also uphill, the HDI runs a vegetarian restaurant and the Karnataka Tourism Department runs a vegetarian / non-vegetarian restaurant named "MAYURA".
Nandi Hills is also one of the unique place in Karnataka which offers paragliding activity and for adventure lovers there's cycling/biking activity too, which is like a paradise of sorts for cyclists, with 7 kms of ride. So, there's something for all. I wish, I could've spent more time there. But sigh...it was time for me to return back to the city.....
Read next part -
Here
!
Stay tuned for all my road, rail, flight, cruise and walk trips.
( Images - ©Mine. All rights reserved. last 6 pics are from Wiki )
Our Rating Scale is : 1 to 5 = ◕◕◕◕◕ - It was Awesome!
---