Photo Travelogue :
Read first part -
Here
!
Let me say it before hand, a journey to Nandi Hills is best before sun-rise, to catch the majestic view of clouds floating below you from up there. But unfortunately I couldn't go so early, but still, I thoroughly enjoyed the ride up there. For a long time the hills teased us from a distance, but once we started climbing - what a climb it was, its elevation being at 1,478 m (4,849 ft). I could literally feel the air-pressure. The climate too started growing cooler, as we ascended more. And the view was just awesome. Many times I wished the bus would stop and I could get down to soak it all in.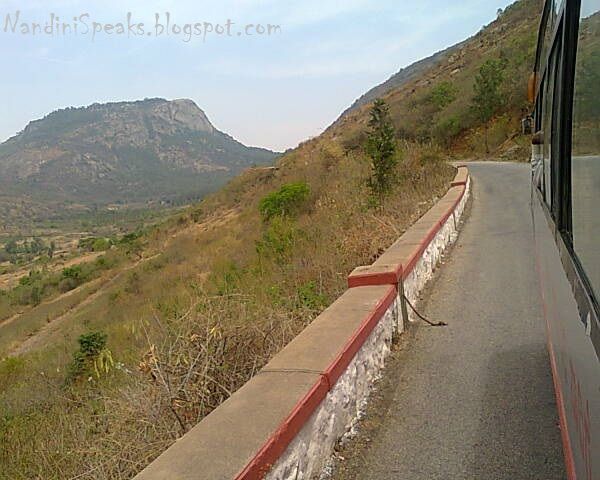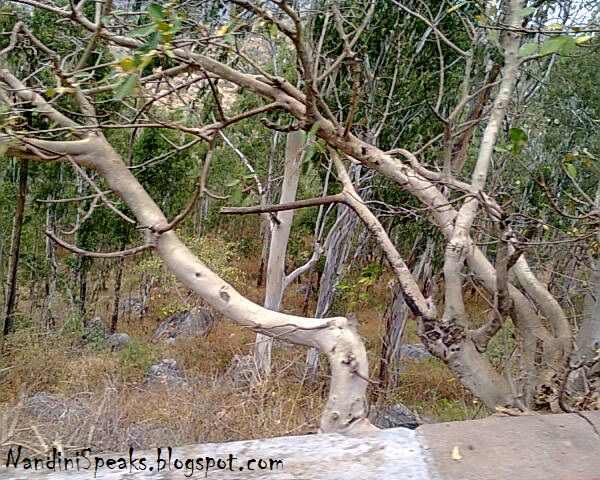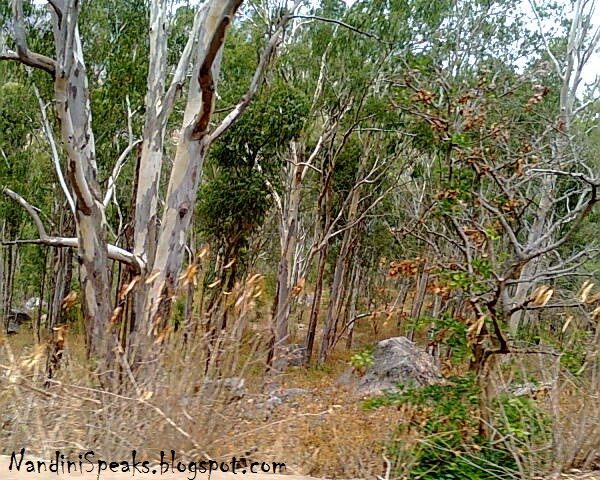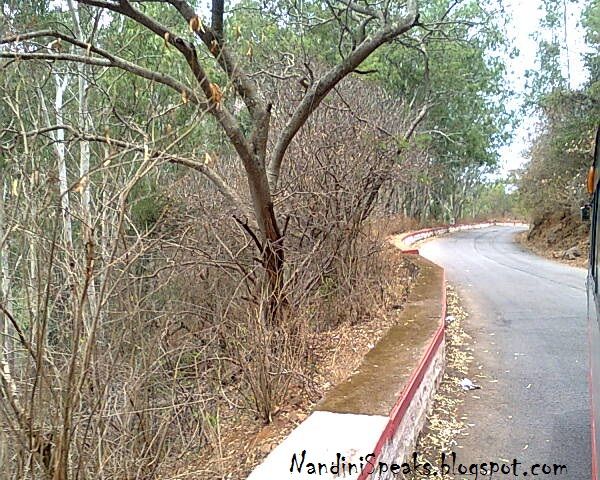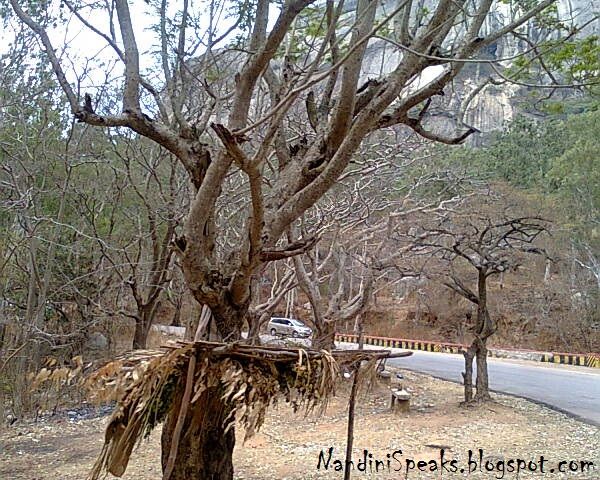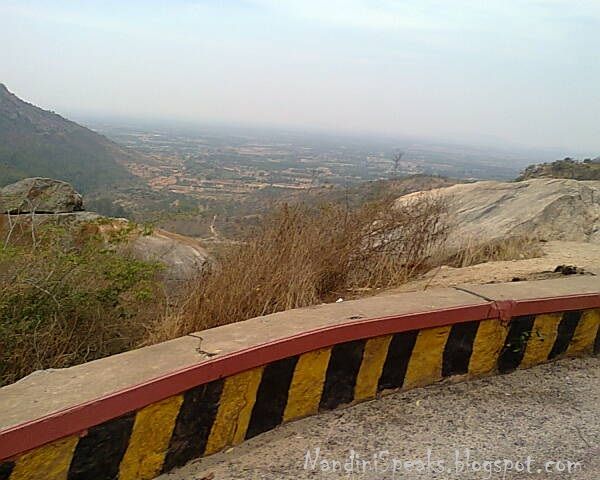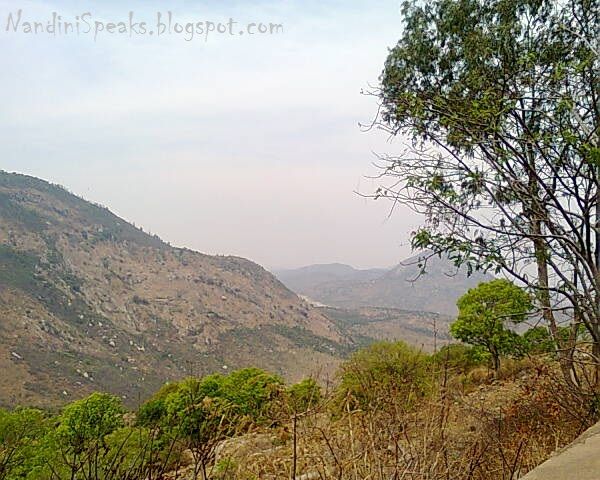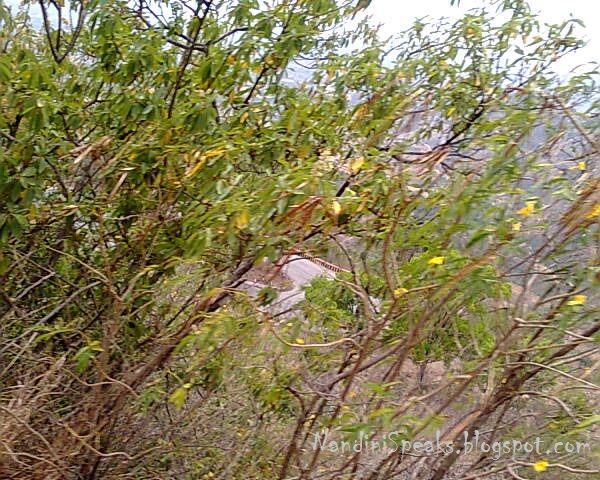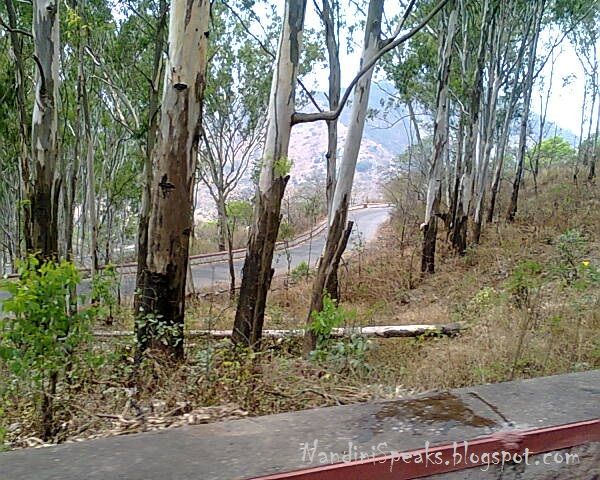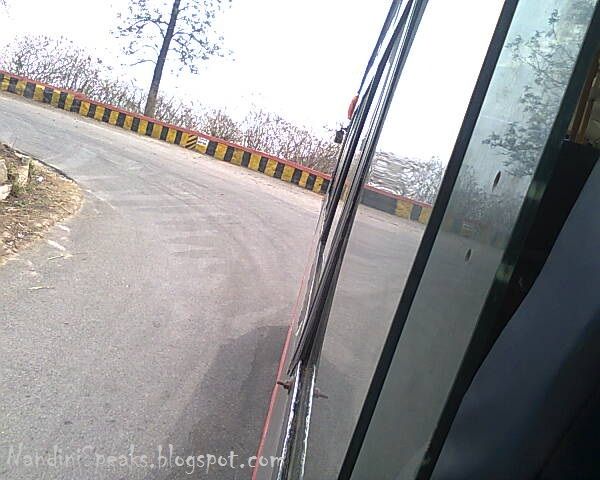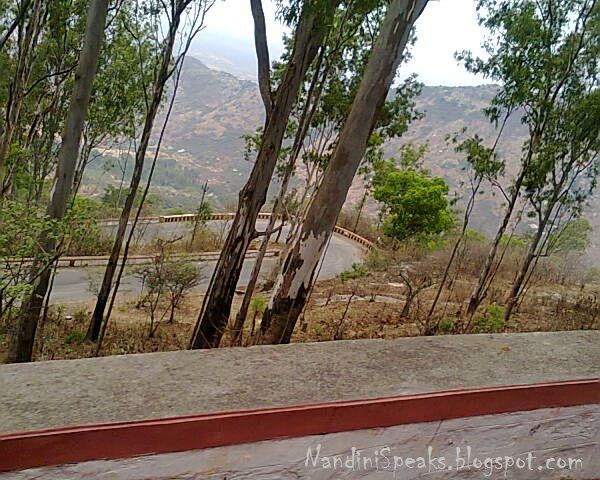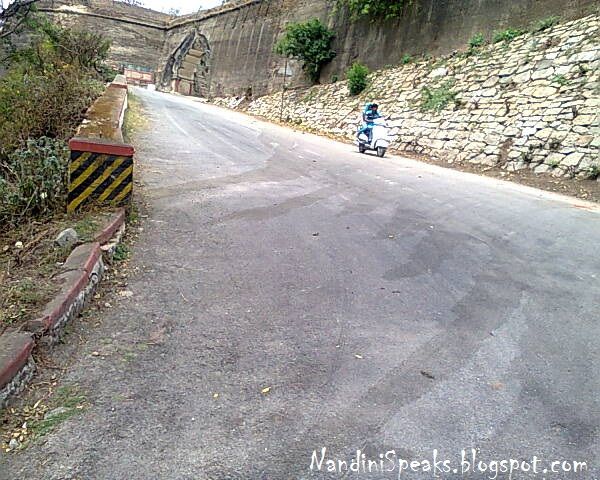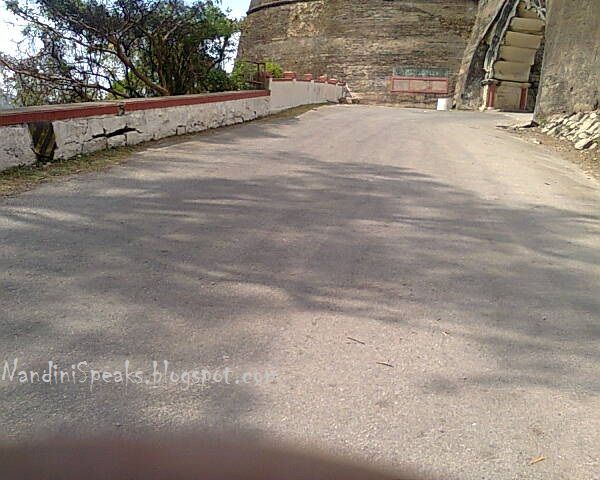 In pictures, the journey up-hill. It has lots of sharp turns
( around 40 or so )
, with the typical tall forest trees covering the whole area. I took pictures gleefully. And finally, we reached the entrance of the fort. Yes, there's a fort up there, quite a massive one at that, built by Tipu Sultan.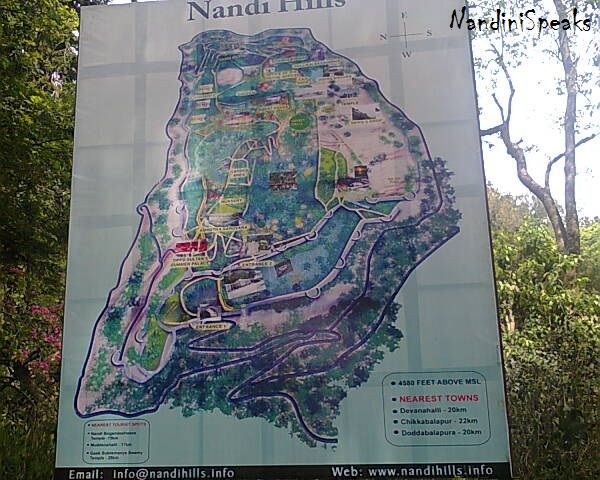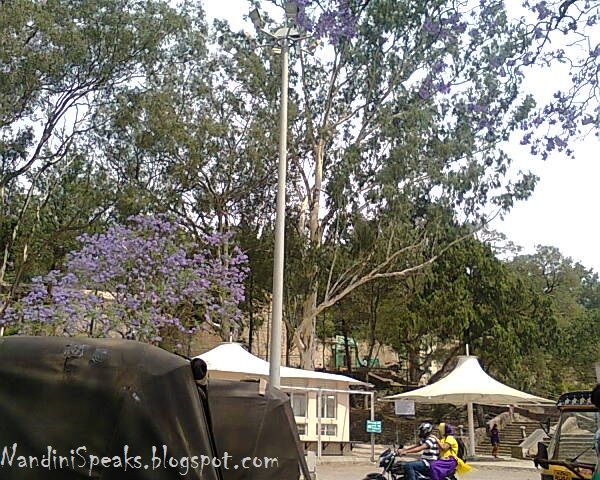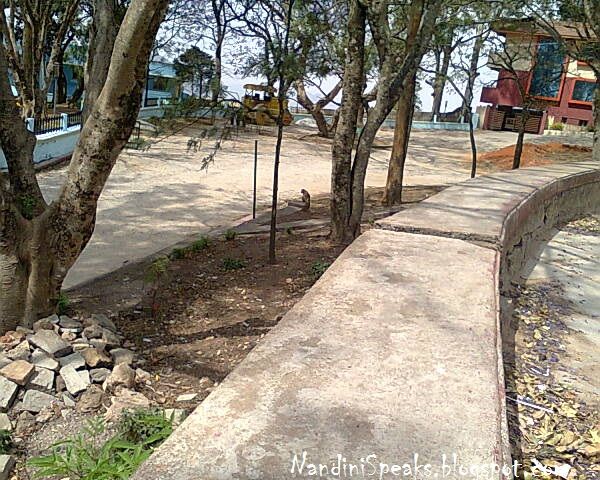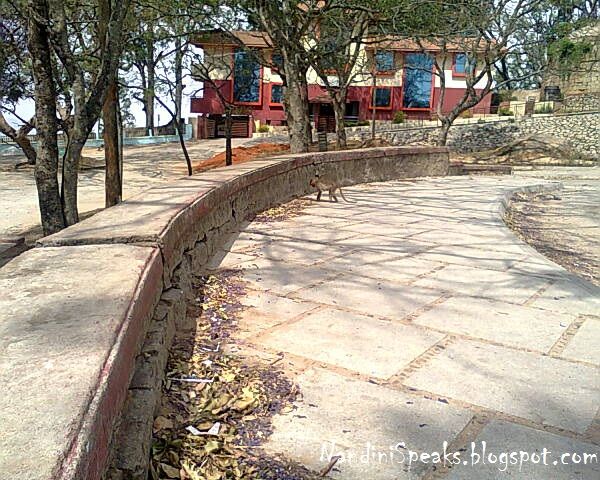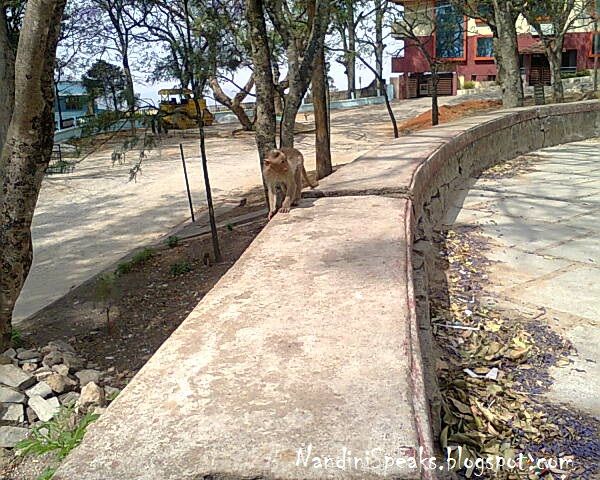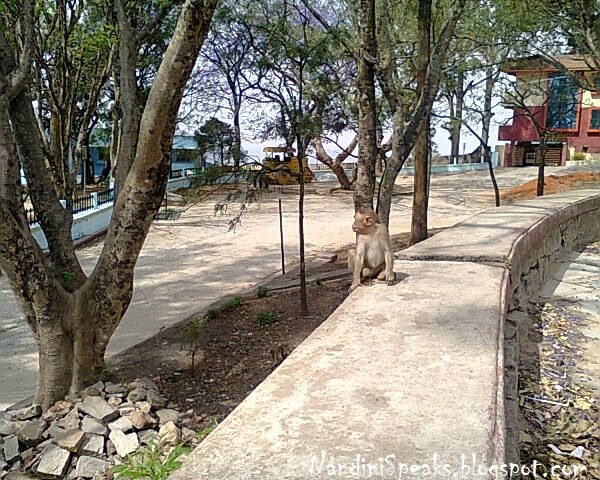 As we entered the main entrance, I spotted lots of monkeys around. It is advised not to take food up there as these monkeys are quite aggressive and can snatch it away. Infact, I had bought one ice-cream from a shop there, and no sooner did I start eating, a monkey appeared from nowhere and made a dash for it. I threw the ice-cream and ran for my dear life. But once I threw, the monkey showed attitude and strutted off. I guess, it doesn't like to take things thrown on ground. Royal monkey, eh?
There's a washroom
( men/women separate )
with running water, charging Rs.5/- where one can get refreshed, after a tiring journey uphill, before going through the 2nd main entrance - inside the fort. Its quite a massive place. Read the next post on it.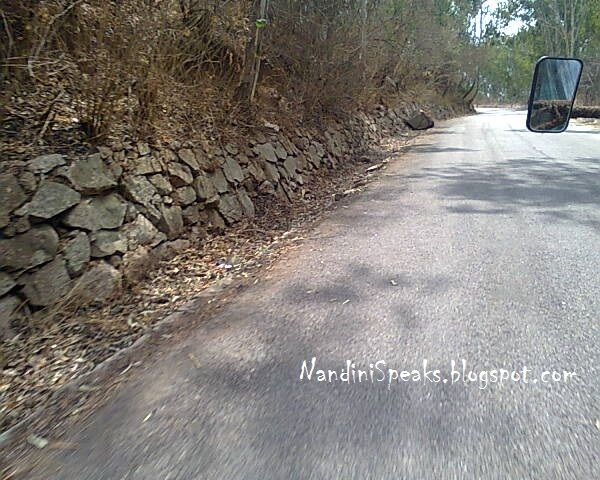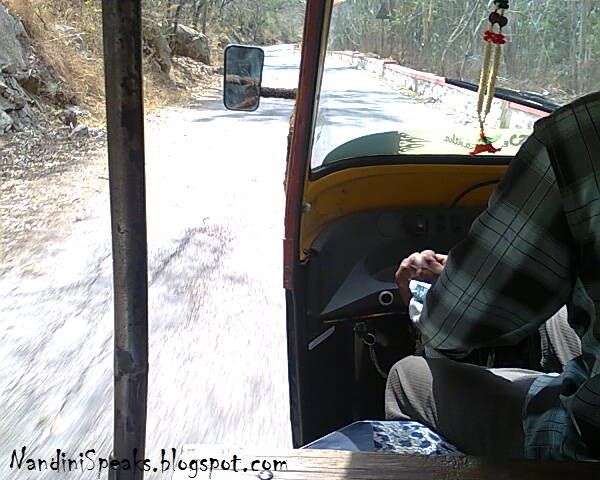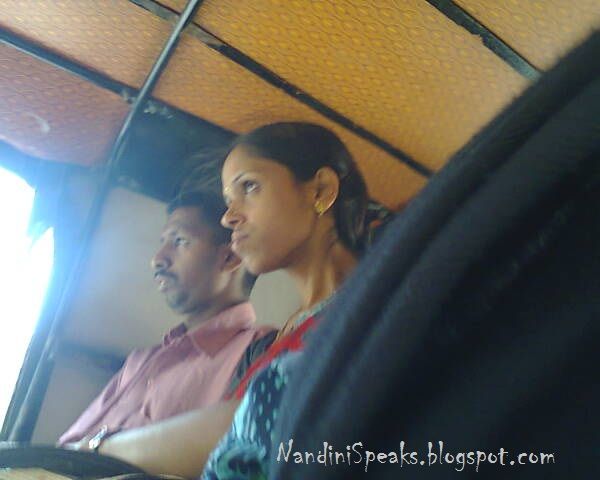 For the journey down-hill, I took the auto route this time, as there was no bus available that time, and paid nearly double than my co-passengers
( I paid 150, they paid 30 )
. They were willing to wait for more passengers to fill in, but I was in a hurry to check into my hotel as it was almost 3pm by then, and getting sandwiched between lots of people was not my thingy.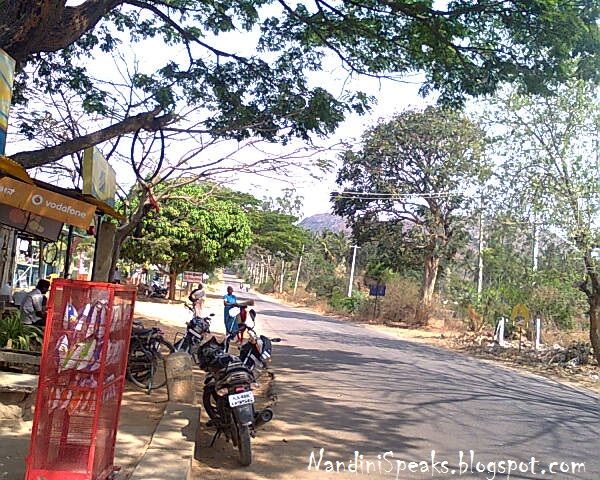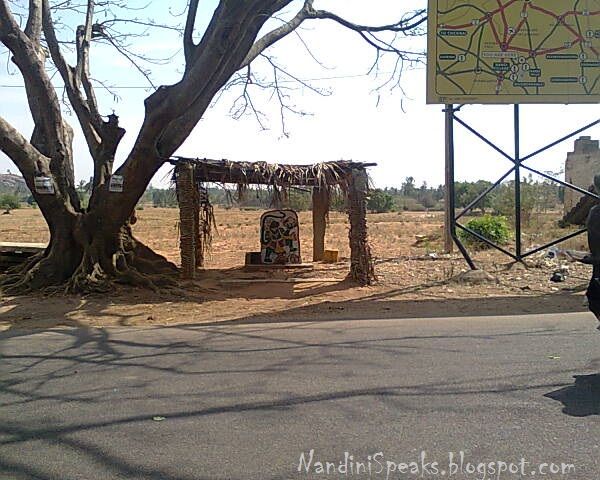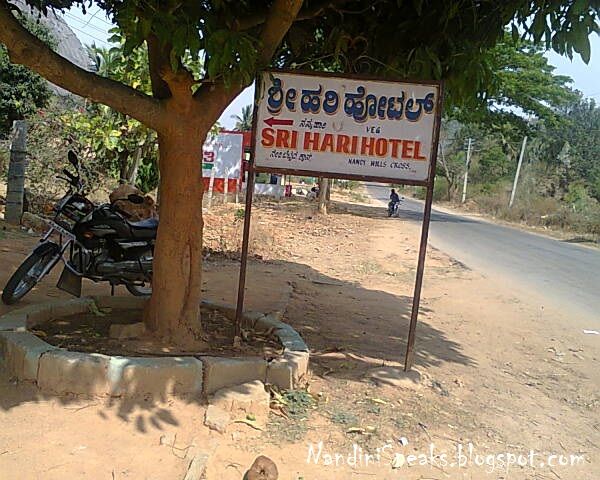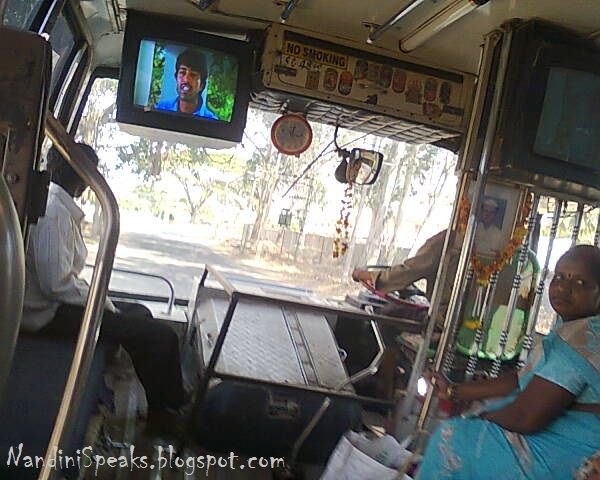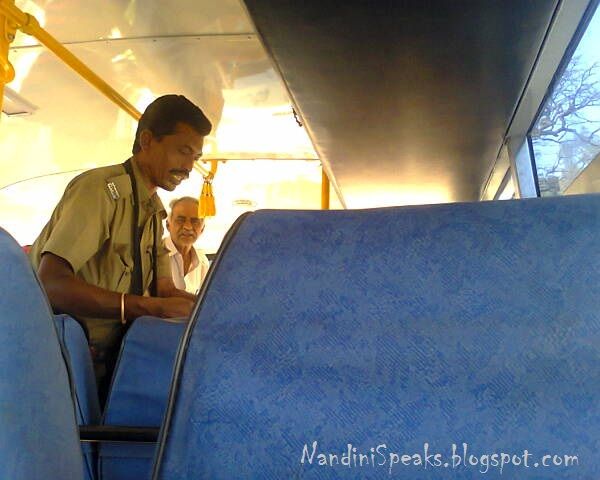 Once we reached the inter-junction, at the foot of the hill, the auto-driver dropped us and went off. So, we had to wait again for a bus to Chikballapur. Some car stopped and offered to take me to 'Lanka'
( a place near the city )
, but I got terrified of travelling alone in someone's car all by myself. It'd be lot safer by public bus, I decided. So, I refused and preferred to wait for the bus instead.
( Note - While travelling alone always try to take public transport. )
While there, I went to a small dhaba nearby and bought my lunch from a friendly dhaba owner, who seemed very eager to know where I was from, how I liked Bangalore so far etc. The lemon rice and fish fries I bought from there was simply yummilicious. I ate mouthfuls of it inside the packed bus that finally arrived
( playing some kannada movies inside )
, and took me back to Chikballapur stop.
It was past 4pm, when I finally reached Bangalore, and from near the bus-stop, I asked for directions to my hotel. Funnily, no body seemed to know, not even the traffic-police whom I asked. And many people do not understand hindi too :s One auto-wala pretended to know and took me to another Ashok Nagar instead, quite far off from the Ashok Nagar
( near Mallya Hospital & Cubbon Park )
, where my hotel really was. So, we took another long de-tour via MG.Road
( that was behind )
, and reached the hotel. It was late evening by then :|
Nandi Hills or Nandidurg is an ancient hill fortress in southern India, in the Chikkaballapur district of Karnataka state. It is 10 km from Chickballapur town and approximately 60 km from the city of Bengaluru. Chikkaballapura is the district headquarters of the newly created Chikkaballapura district in the state of Karnataka, India.
Read next part -
Here
!
Stay tuned for all my road, rail, flight, cruise and walk trips.
( Images - ©Mine. All rights reserved. )
Our Rating Scale is : 1 to 5 = ◕◕◕◕◕ - It was Awesome!
---