Photo Travelogue :
Read first part -
Here
!
A 10-11 kms or so distance, that takes about 15-20 minutes
( if your luck runs good with no traffic )
. My train was late and I had to rush from Nizamuddin station to NDSL ( New Delhi Rly Station ), so that I didn't miss my train to Haridwar that day. So, getting off the station, I headed straight to the pre-paid booth
( outside station )
, that charged about 75 bucks. It is always advisable to take either auto or cab via pre-paid, so that the exact amount is charged, as in Delhi, there's no guarantee of the metres in these vehicles and one may have to shell out as per the driver's whims and fancies. One can also fix the amount ahead of the trip, so as to be on the smarter side. Minimum charge is currently Rs.25, that multiples with every km covered.
On my way to the station, I naturally passed by some of the famous Delhi roads and monuments. I was there in my college days, so its been quite long. The road, the auto took me, passed by the Rashtrapati Bhavan, Connaught Place, Lodhi Road etc ( some of the poshest areas ).


Just outside Nizamuddin station, the auto first went through a small lane.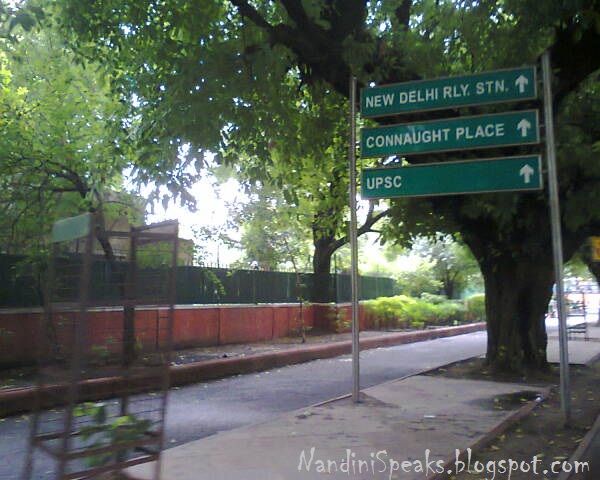 The road-signs! Recognize, which areas are these?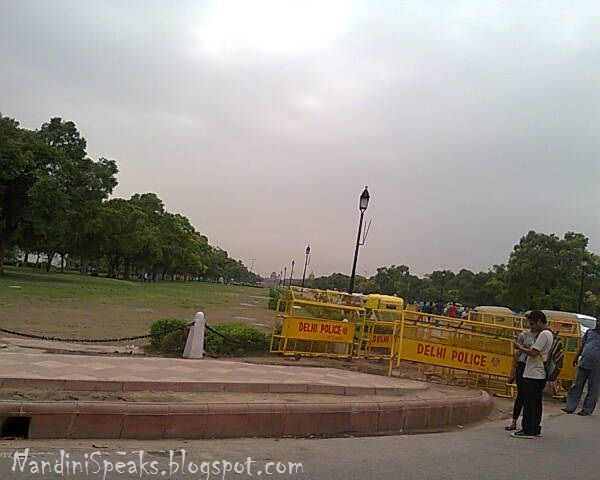 Rashtrapati Bhawan at a distance. Can you see it?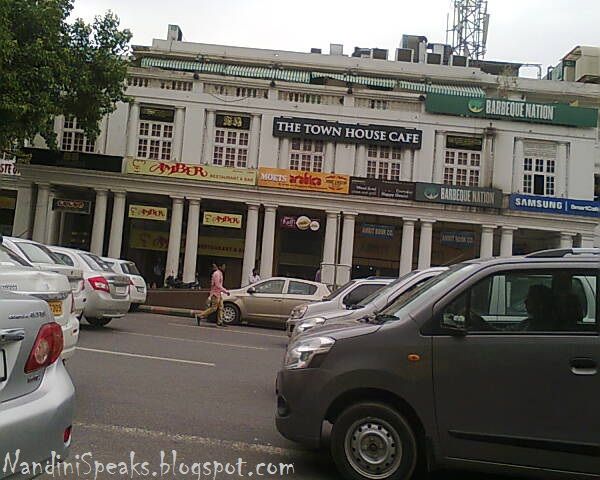 Connaught Place :-)
Just near Rashtrapati Bhawan, its a commercial area marked with long white-painted buildings.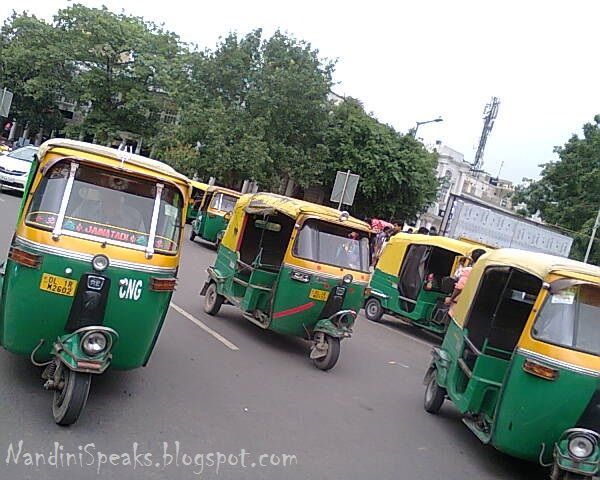 Green and Yellow everywhere :-)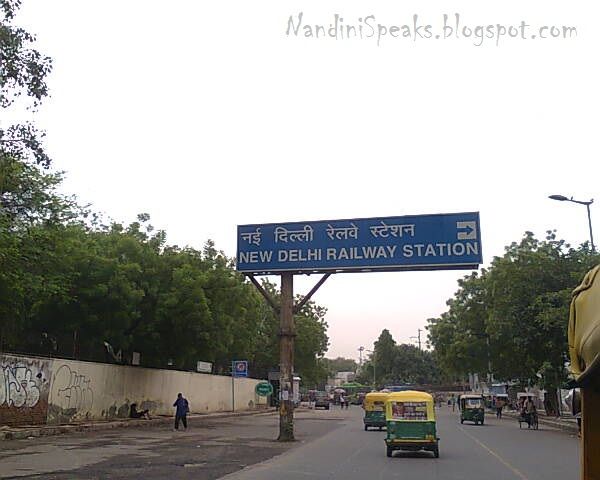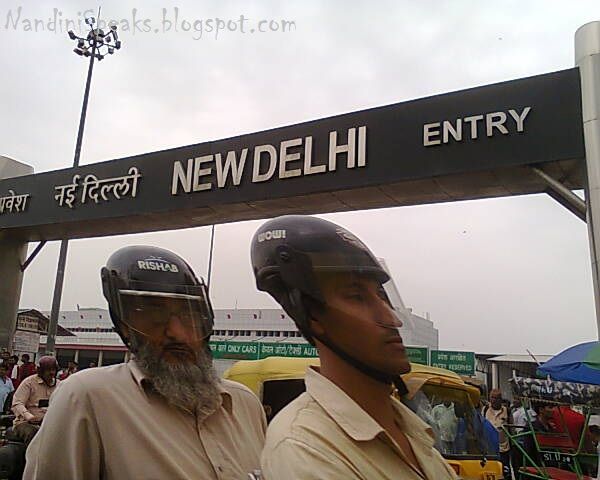 Finally, the sign I was waiting for! I had frantically rushed my auto, throughout, nearly yelling at him -
'driver jaldi chalo, jaldi chalo; mera train miss ho jayega'
and he was like,
'chala toh rahe hai, traffic ho to mai kya karu'
. DUH! I reached the station with barely 15 minutes left for my train to depart. Should be enough, you'd think. Well, no....the station was gigantic and confusing as hell. I had to first rush to the enquiry counter to ask which platform my train was on. Then, there was this long-long line to reach there, to ask that enquiry fellow. But as I joined the line, the enquiry man was telling about my train to another woman
( who was in the front )
, in his microphone. Hearing the train name, which was same as mine, I waved at her to confirm if she was going in the same train. She nodded, and asked to come along which I did, by following her rather happily. Phew...I didn't have to wait in that queue after all, which was a big relief. The station is so huge that searching platform no.11 was like some clueless riddle. Anyways, reached just as the train was about to leave the platform. Thank goodness, I could board atleast :| A close call it was.
Read next part - Here! Stay tuned for all my road, rail, flight, cruise & walk trips.
( Images - ©Mine. All rights reserved. )
Our Rating Scale is : 1 to 5 = ◕◕◕◕◕ - It was Awesome!
---