Photo Travelogue :
Read first part -
Here
!
I made two trips to Dehradun, both times though, Mussoorie was my main destination. 2nd trip could've been avoided had I known about buses to Kempty, which was doable on 1st day itself
( more on that later )
, and I could've used that extra day to explore some other place instead. Anyways, destiny had its own plans, hence, covering the first trip to Dehradun first (
look out for the 2nd one too in my coming posts )
. The journey from Haridwar takes almost 2 hours, while from Rishikesh, where from I took my 2nd, journey takes about 1 hour by bus. My journeys are always more thrilling, because I take on-the-spot local transport; sometimes, almost missing them too. Nothing is pre-booked i.e the local transport, hence, I'm always on the edge. I'm no luxury traveler. I think its fun that way, no? What say?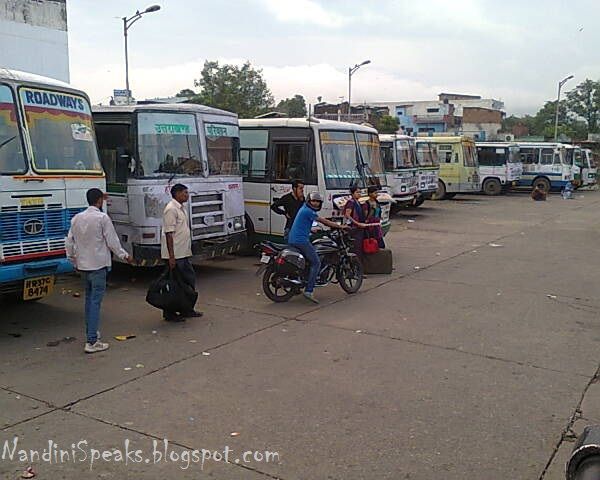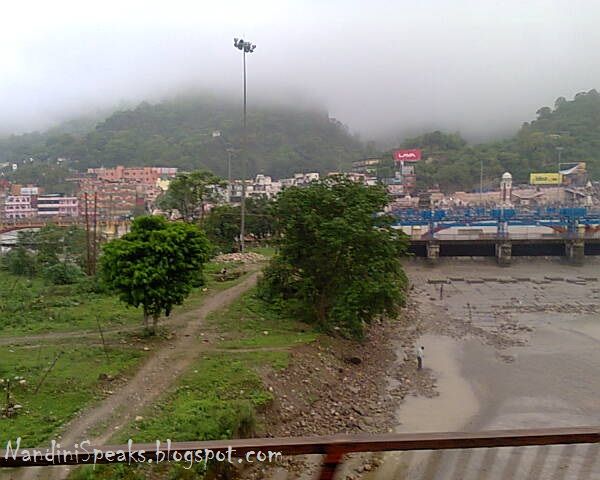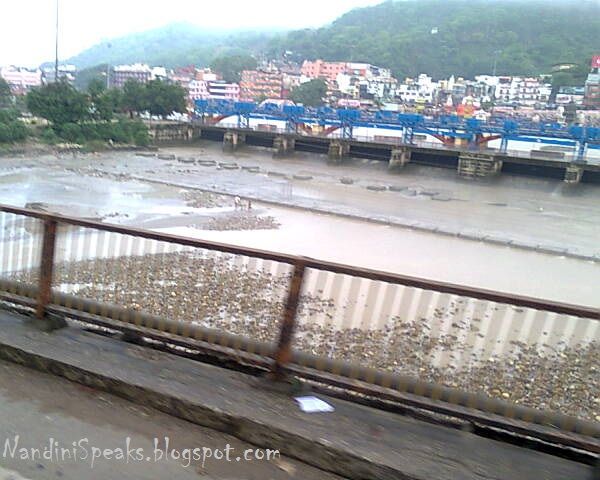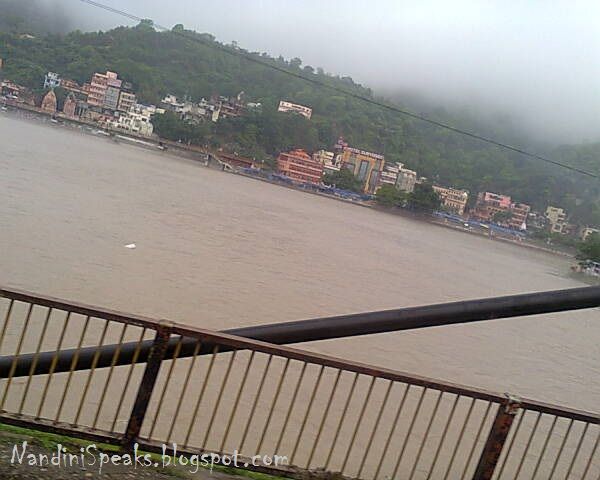 As I had visited the ghats too early that morning, it was almost 8am when I finally boarded the bus to Dehradun. The bus-stop is just near the Haridwar Rly Station
( on opposite side )
, so, its easy to locate. Around that time, the small roadside dhabas were slowly opening and I wondered if I should have breakfast first. I decided not to, and instead thought of having it in Mussoorie instead. Time is of essence in such trips. Meanwhile, I clicked away merrily.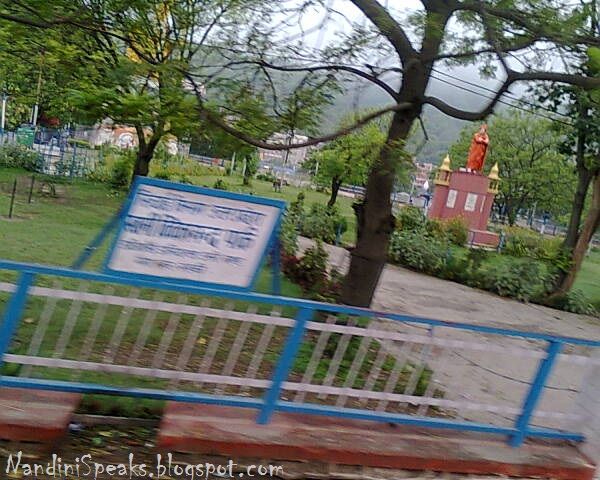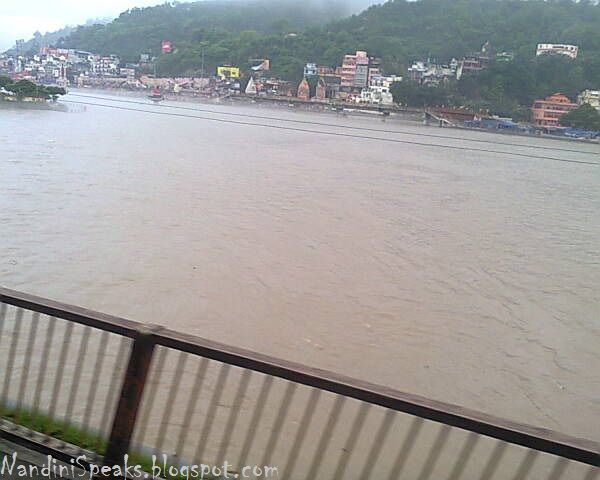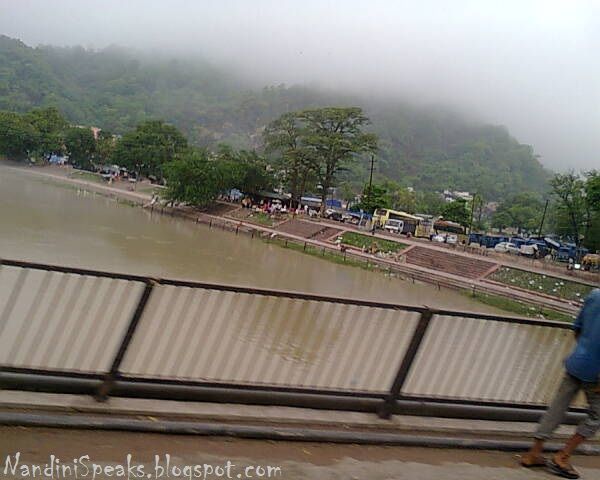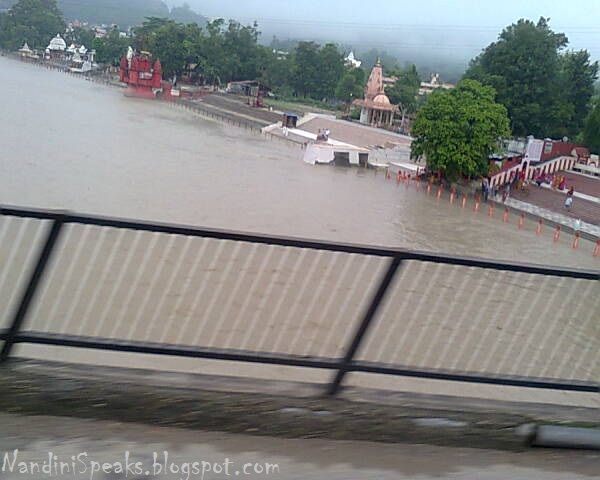 Haridwar, dotted by many small and big ghats, as our bus cruised by, with cloud-kissed hills looming in the back-drop. In monsoons, its a breath-taking sight in itself.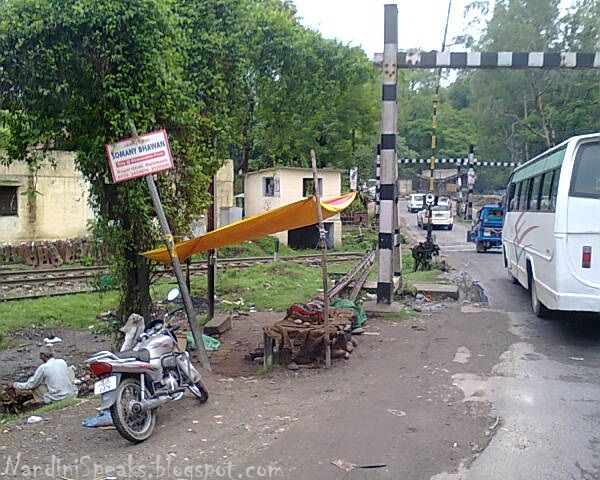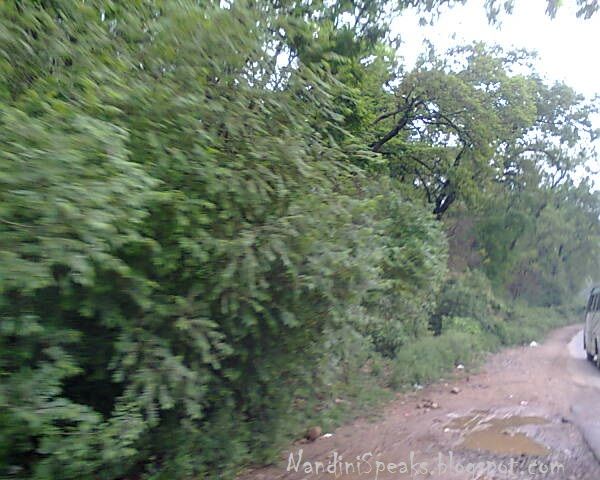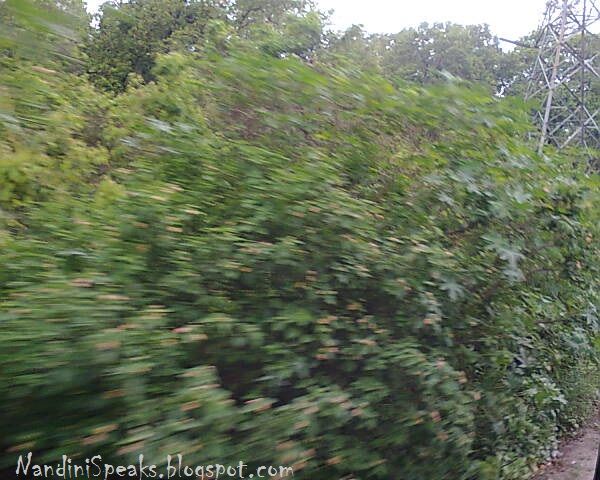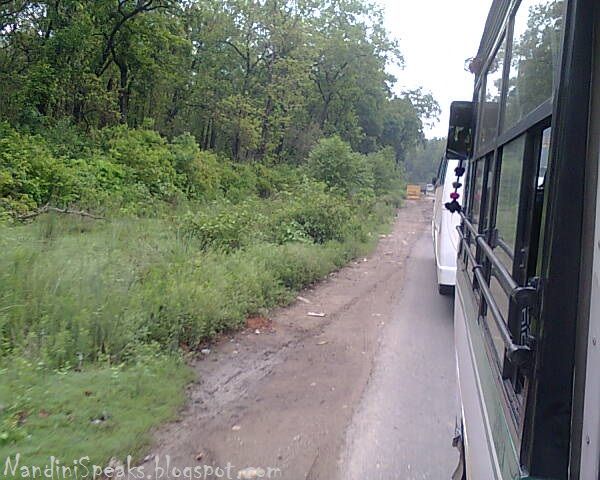 After the ghats, it was turn of the forests to take over, as our bus zoomed through the Rajaji National Park. The park is famous for its wildlife - with elephants being its main attraction, besides others. It is also a Tiger Reserve, that encompasses the Shivaliks, near the foothills of the Himalayas. It is spread over 820 km², and three districts of Uttarakhand: Haridwar, Dehradun and Pauri Garhwal. There are regular jungle safari as well as jungle camping available here.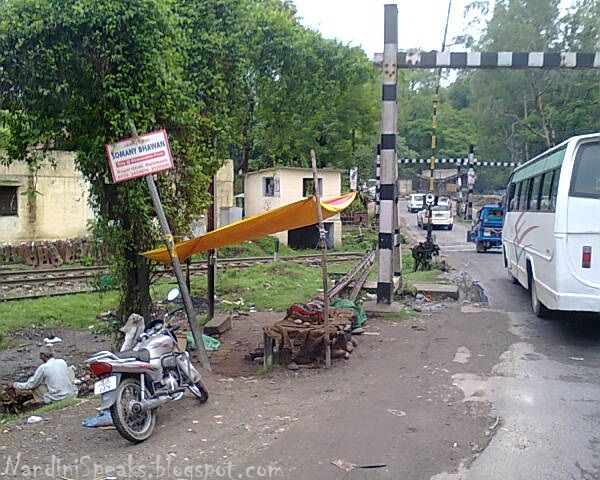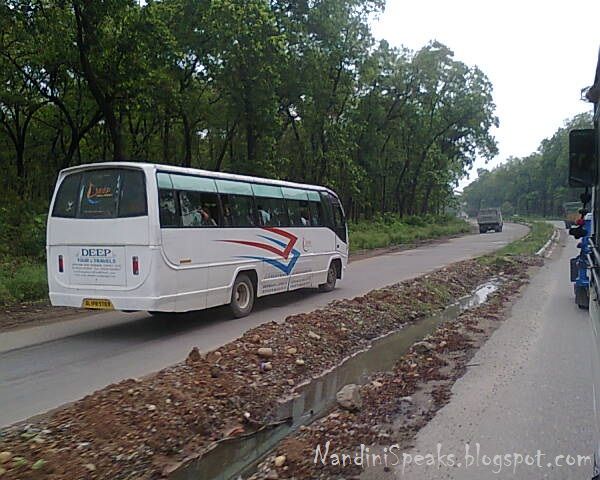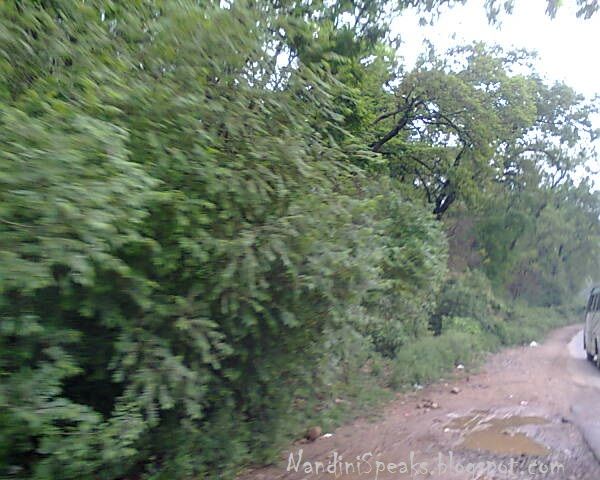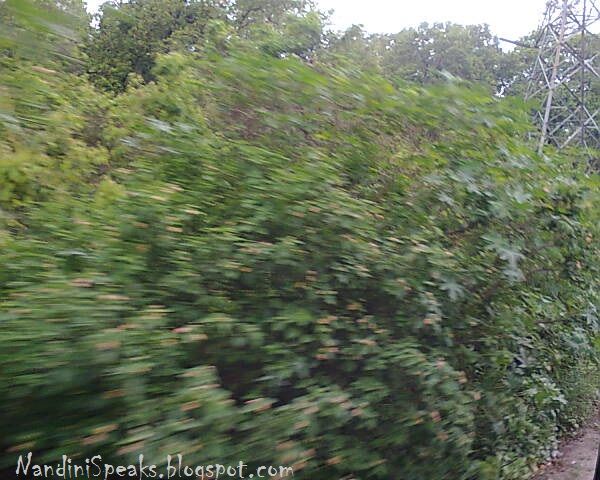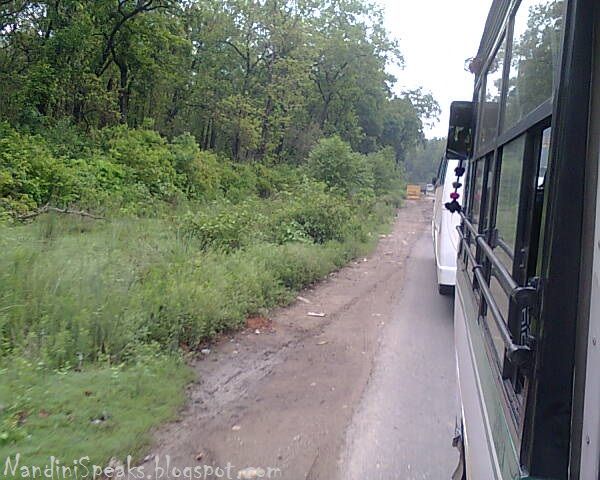 For a while, during the journey, I had the luxury of a window seat; but then, I soon realized it was the conductor's seat and he just wouldn't part with it. He nearly shoved me to the adjacent seat. Whew! There was heavy rainfall the previous day, hence, the bus was over-crowded in no time, what with most stranded people trying to catch up on their lost journey. The conductor was a funny character. He must've uttered the words - 'sab gadbad hai, bhai, bohot gadbad hai' hundreds of times, throughout the journey, while spitting on his thumb to count the money collected properly.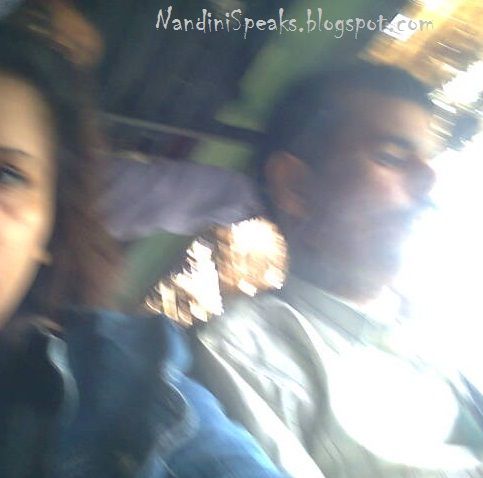 The bus-conductor near me :s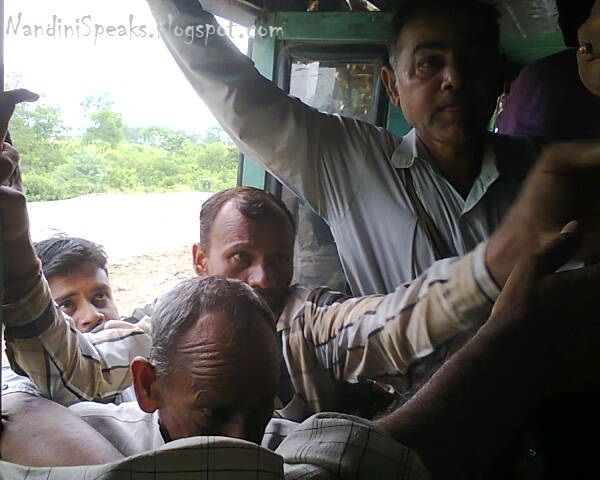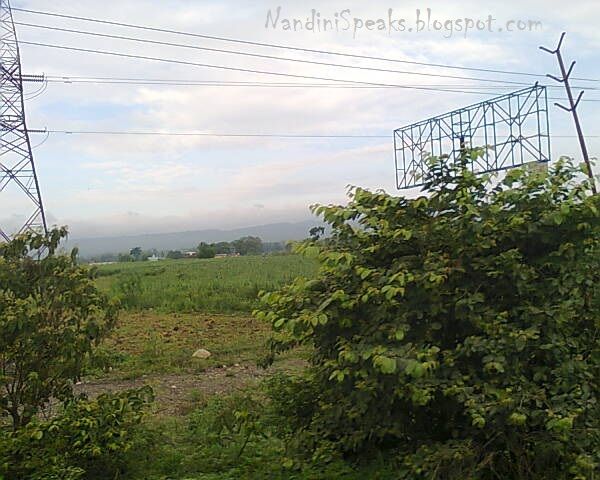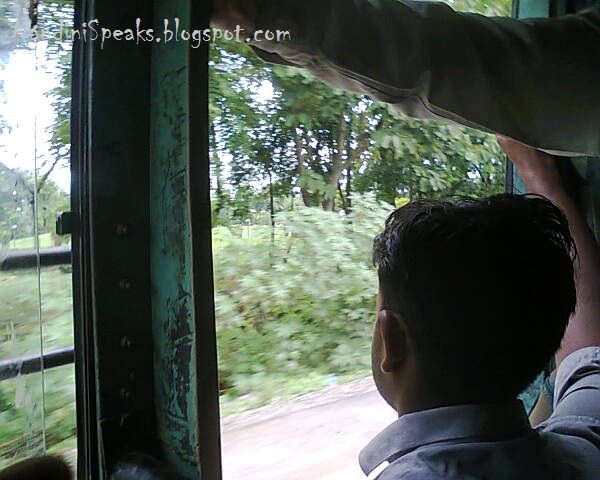 The forests gave away to plains with hills visible at a distance. We had entered the Dehradun valley atlast.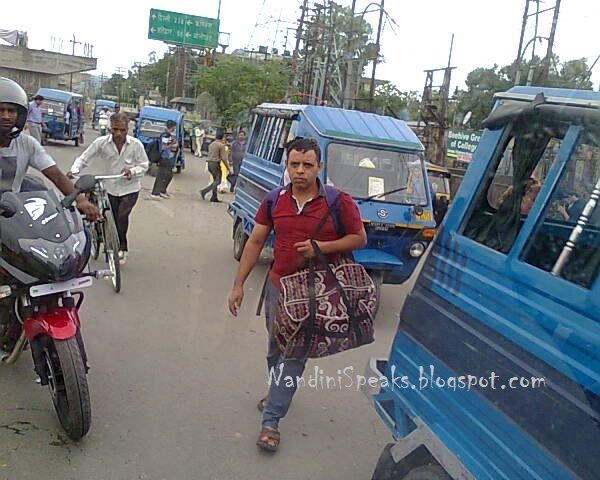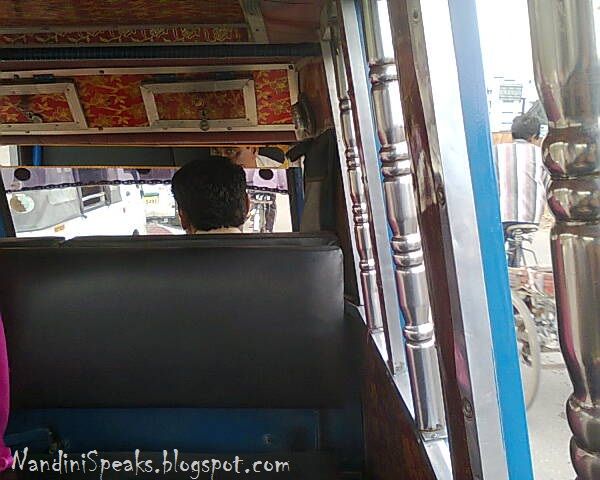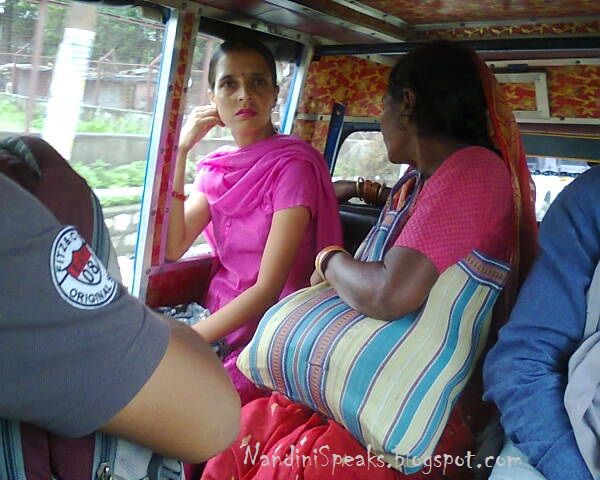 The bus journey finally came to a stop. But I learnt, that this bus-stop was actually few kms from the Railway Station where the Mussorrie bus-stop was located. So, started my debut-travel in the Vikrams. With minimum fare of Rs.10 onwards, the blue, shared blue 3-wheeler Vikrams are a common sight in Dehradun
( infact, in most of UK )
. So, I covered about a 15 minutes ride in one of those, till I reached the station. Yes, along with my inpromptu co-passengers.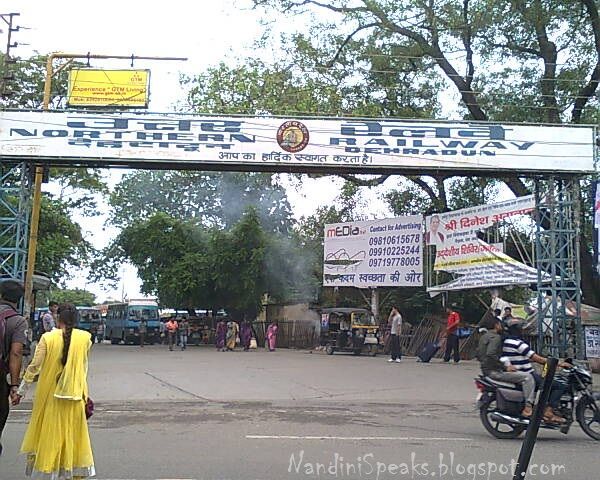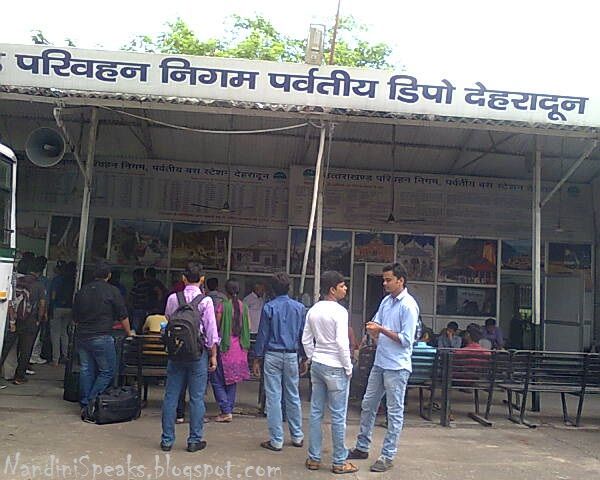 The Mussorie bus-stop is very near the Railway station. On reaching, I got about booking my ticket immediately. Luckily, there was a bus leaving soon, with its conductor yelling out for passengers
( he told me to get the tkt fast )
and I got the last seat. Phew...anything is better than nothing :-)
Read next part - Here! Stay tuned for all my road, rail, flight, cruise & walk trips.
( Images - ©Mine. All rights reserved. )
Our Rating Scale is : 1 to 5 = ◕◕◕◕◕ - It was Awesome!
---