Photo Travelogue :
Read first part -
Here
!
I got off at Dehradun railway station, on the way back from Kempty. However, I discovered, that as usual, my train was delayed. At first, I had thought to wait in the station itself, but realized, it'd be a rather long wait, as it was only close to 4pm. I still had plenty of time at hand. I had kept my back-pack in the cloak-room earlier
( before leaving for Kempty )
. Assured, it was still there, off I went.

opposite view from the Dehradun Railway Station.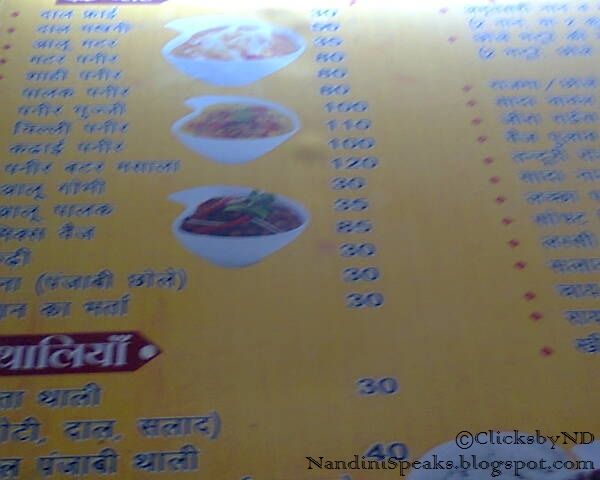 I decided to have an early dinner - yes, at 4pm in the afternoon :-)
While chatting with the owner of the Dhaba
( opposite the Rly Stn )
, I asked him if there were any places doable in 2-3 hours, nearby. He told me of this place with plenty of temples scattered, very beautiful - peaceful place. He asked me to catch a bus to Clement Town, and it'd take approx 40 minutes or so one way. After finishing my mouth-fulls, assuring him that I'd write about Dehradun too
( he thought me to be a journalist ),
I went to the spot where he said I could board a bus. And yes, a bus to Clement town indeed came soon, only, it was just too crowded and stopped everywhere. So, the journey took almost 1 hour :o And besides, I had told the bus conductor to remind me when we reach the temples - which they simply forgot :x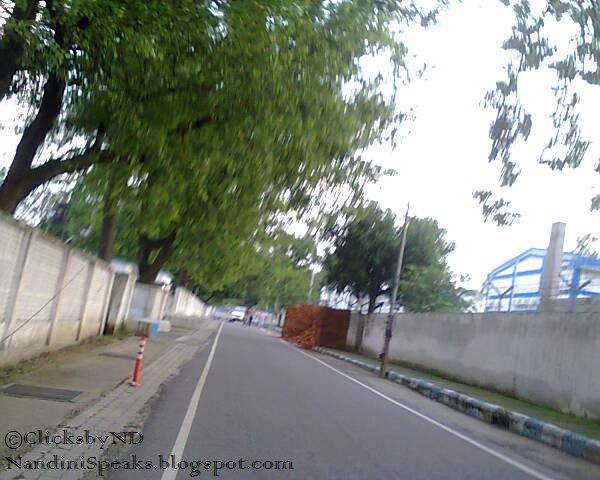 I passed way ahead of my destination and into some restricted military-type zone. It was Clement Town - a restricted zone. Assuming me to be a new-comer, one passenger asked me if I had an identity-card to enter the area. I was like, why I needed one to go to a tourist place? Then, the bus conductor realized his folly and informed that we had left the temples behind. That I should've stopped at the junction we crossed and taken right, instead of the left the bus had taken. I got down hurriedly and walked all the way back, almost 2 kms, till the entrance greeted me. Sigh!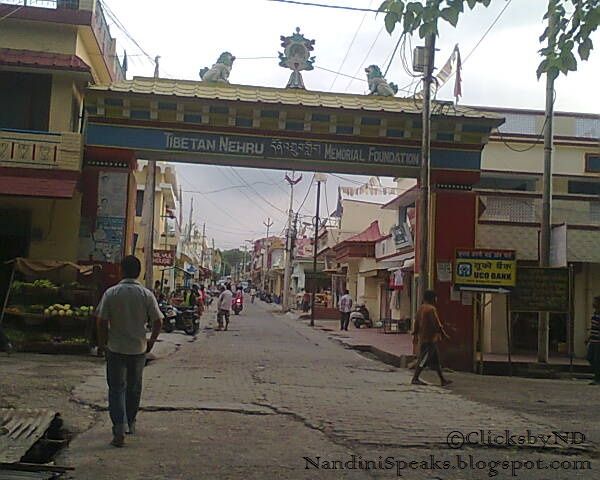 The Entrance Gate to Tibetan Nehru Memorial Foundation, (Dhondupling Tibetan Settlement).


This settlement is situated at a distance of 10 Kms from Dehra-Dun town, at an altitude of about 2730 ft. above sea level with an average temperature of 25.43 degrees Centigrade. See the tibetan type architectures?
Mindrolling Monastery
, a Tibetan Buddhist center with shrine rooms in its Great Stupa, is situated in this settlement. And yes, the temples I had come to see were Buddhist ones, and not Hindu ones as I had previously thought.
History : A group of Tibetan Refugees formed a dance and drama troupe in 1960, which toured india to raise funds for their eventual settlement. In the meantime, the seventy members troupe had temporarily settled at Rajpur, near Dehradun, receiving assistance from Government of india. Later, in 1964 Dhondupling Tibetan settlement was established on an area of 110 acres. Acharya Vinoba Bhave donated the settlement land. Dhondupling is more of a craft community than a land based settlement. The population, since then, have increased. ( wiki )
Its interesting to see, so many different kinds of people living in this Incredible country, India :-)
Address : Mussoorie, Uttarakhand
Read next part - Here! Stay tuned for all my road, rail, flight, cruise & walk trips.
( Images - ©Mine. All rights reserved. )
Our Rating Scale is : 1 to 5 = ◕◕◕◕◕ - It was Awesome!
---