Photo Travelogue :
Read first part -
Here
!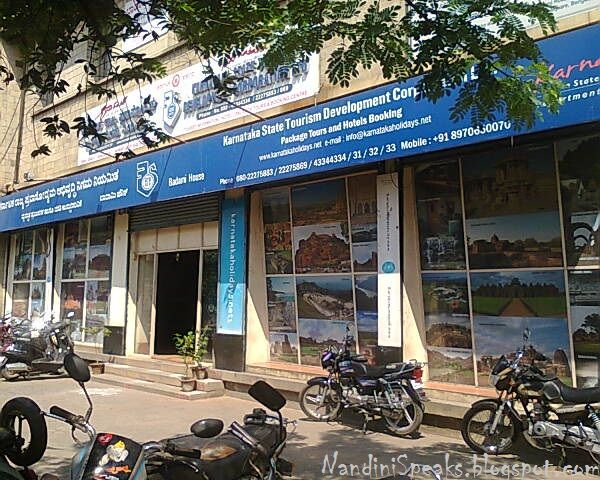 After a rather heavy breakfast at
Cubbon Pavillion
, I rushed to the KSTDC office, which was not far from my hotel
( though, not-aware I took an auto first, who took a turn and the next moment I was there :o )
. But alas, not surprisingly, I missed my morning city-tour bus
( been missing all the the buses :| )
. I asked the attendant, if it was possible to join the bus in some other location where it was scheduled to arrive. But to the amazement, he replied, that in normal days there are always a few seats empty, but only that day
after months
they were houseful. My luck! He suggested me to take the afternoon bus, that starts at 2:30pm and meanwhile asked me to hop on an auto and visit the nearby places. He gave me a brochure to guide. Then suddenly, he suggested me to go to Bannerghata instead. He said, the safari would be worth it, but was little doubtful if I would return on time to catch the bus. Since he said it was a 1 hour journey, I decided to take the risk and very soon found myself standing in the bustop that had the particular bus to Bannerghata. The bus-top is just opposite of the KSTDC office
( have to cross the road )
.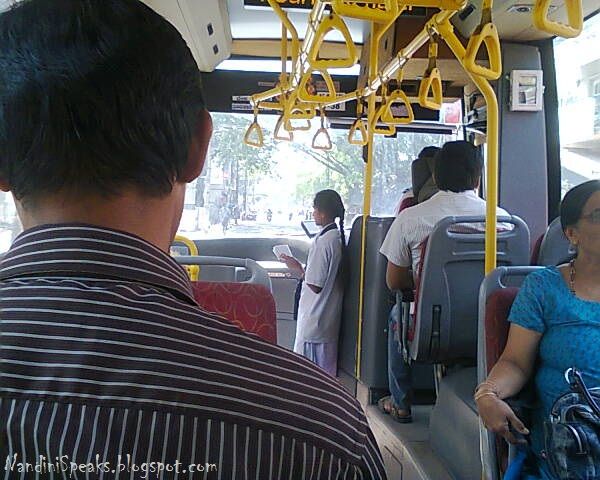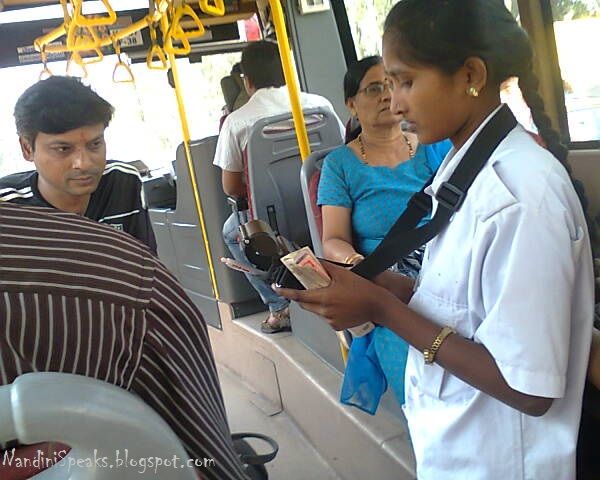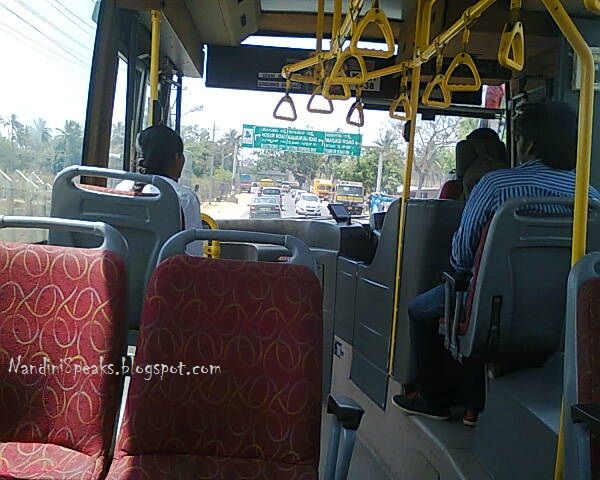 The wait wasn't long, and the bus arrived. Woman bus-conductor, that was a surprise again :-)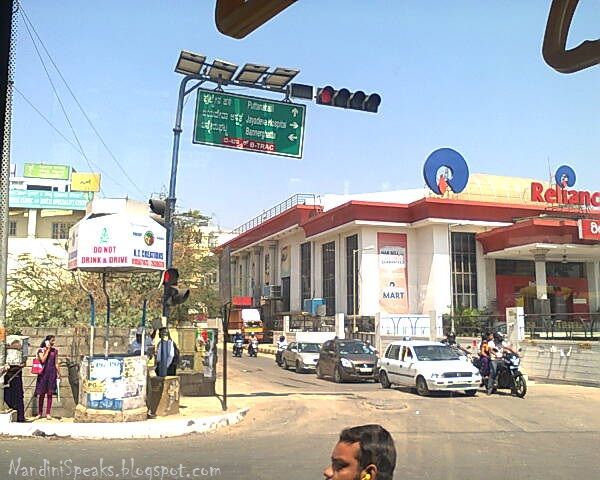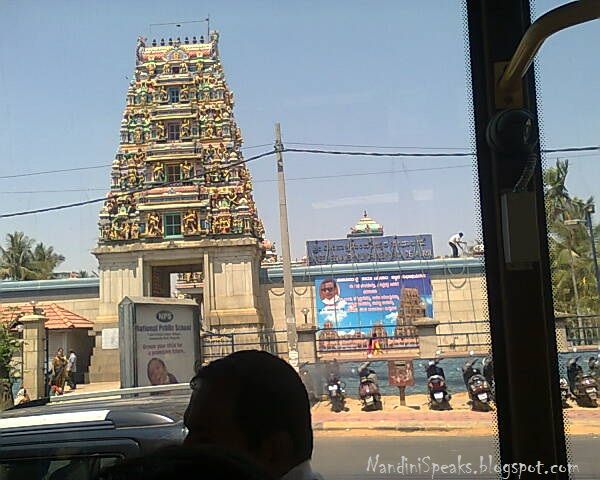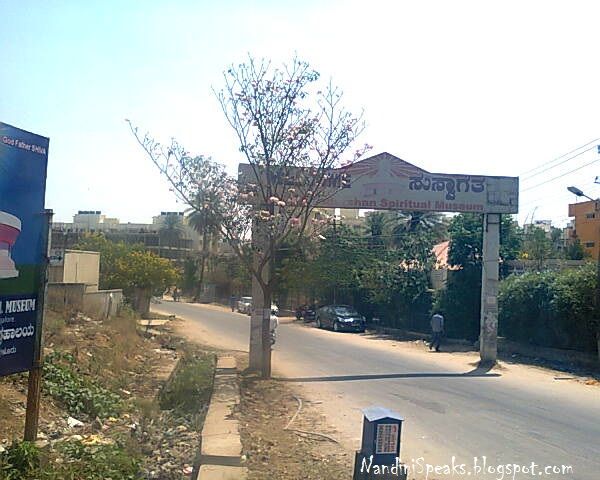 We drove through the city first, then, its outskirts :-)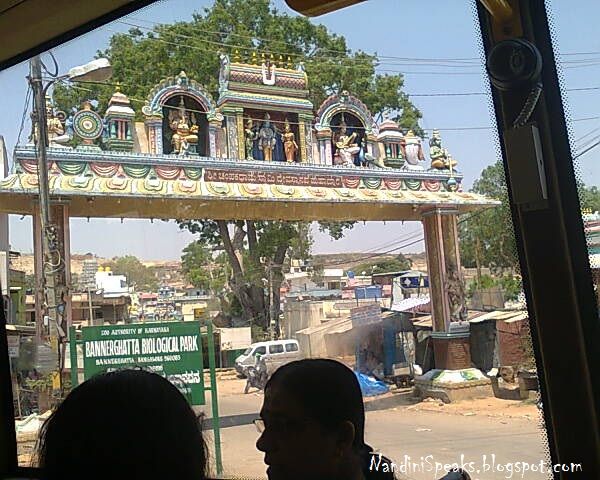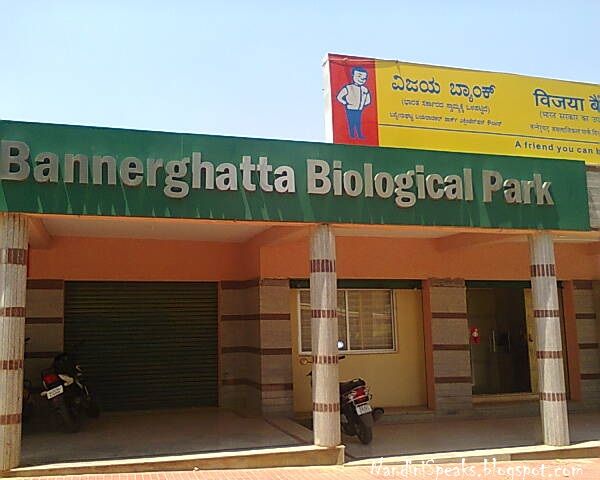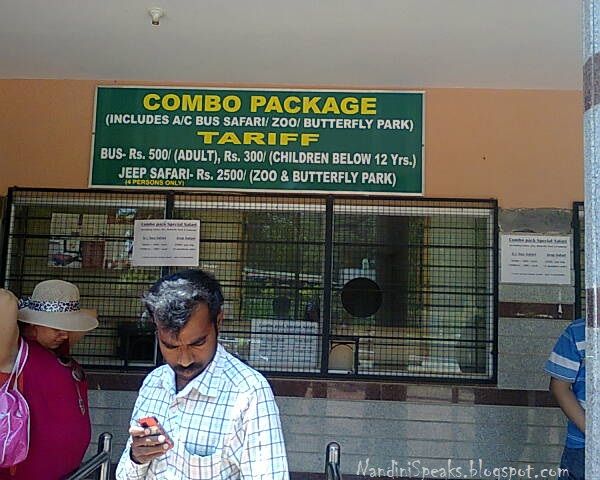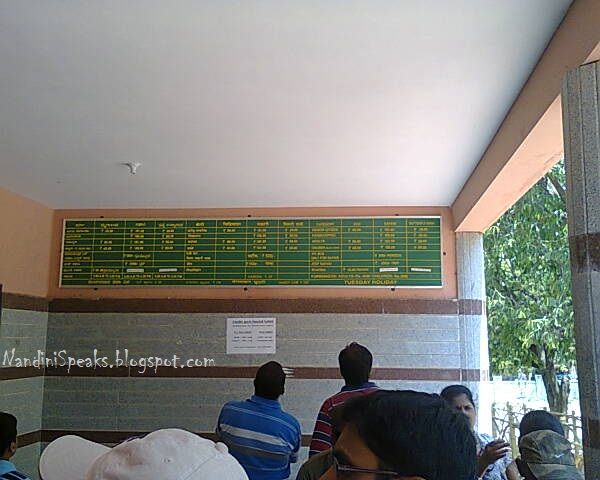 It took exactly 1 hour to reach Bannerghata. The sun was blazing hot, as we got down. There's a huge rocky wall-type natural structure and you know the park is on the other side instantly. There are various ticket rates
( for adults+children+groups )
, plus, if one carries video camera - they may be charged extra. The whole safari-tour takes around 45 minutes to complete.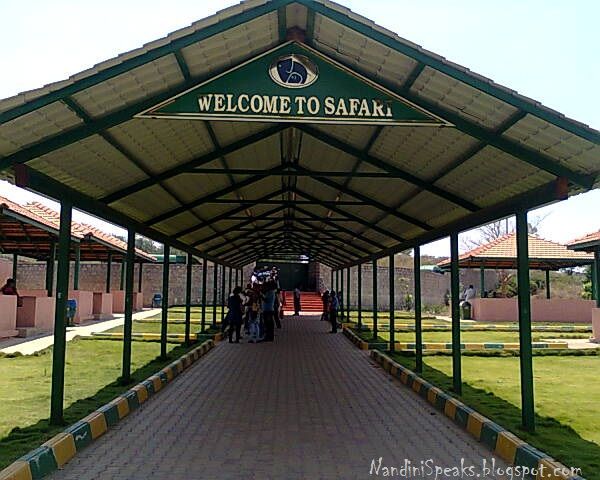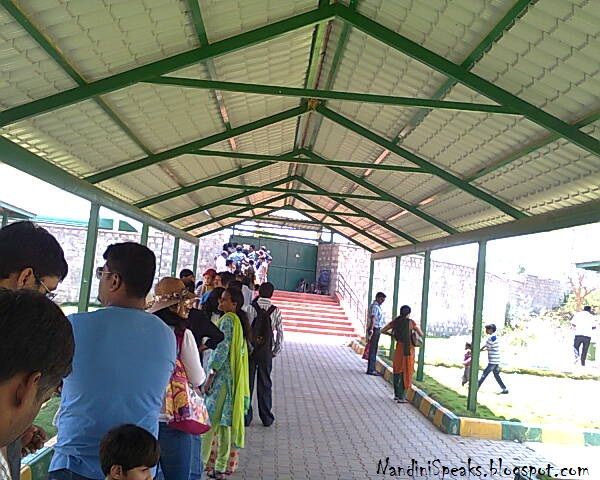 The long queue to the Safari bus :-)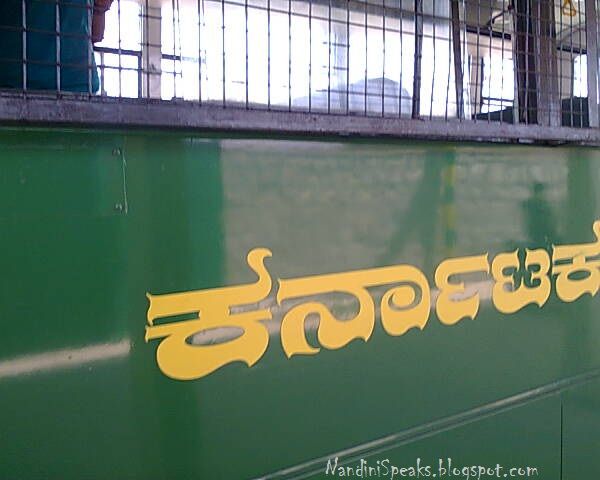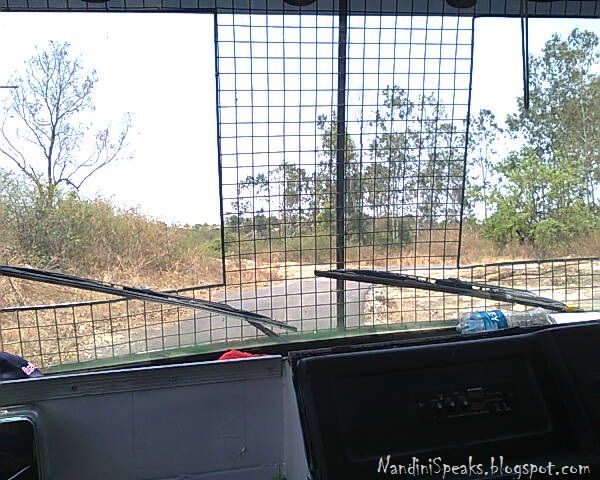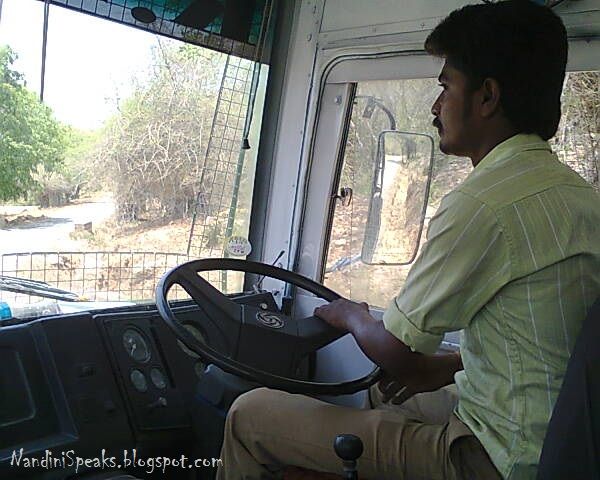 As I was alone, I got to sit on the front seat itself
( whatta view )
! Behind seats are for couples/ families etc. I sat near the driver and thoroughly loved the view I got, also the tidbit information the driver kept giving throughout the entire tour. It was really interesting.
Flora in the park include: Narcissus latifolia, Schleichera oleosa, Terminalia tomentosa, Sandalwood, Neem, T. arjuna, Grewia tilaefolia, Santalum album, Tamarind, Bamboo, Eucalyptus, Bauhinia purpurea, Samanea saman, Peltphorum pterocarpum.
Fauna in the park include: Leopard, Lions, Tiger, Tortoise, Zebra, Elephants, Gaur, Jackal, Fox, Wild boar, Sloth bear, Sambar, Chital, Spotted deer, Barking deer, Common langur, Bonnet macaque, Porcupine, Hare, Pangolin, Slender Loris, Monitor lizard, Cobras, Python, Russell's viper, Krait, Hippotamus; also One hundred and one species of birds and over twenty species of Butterflies in the Butterfly Park. There is also a Zoo in the premises.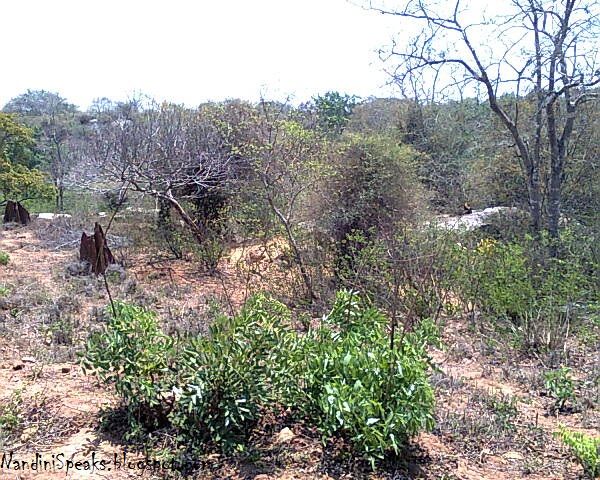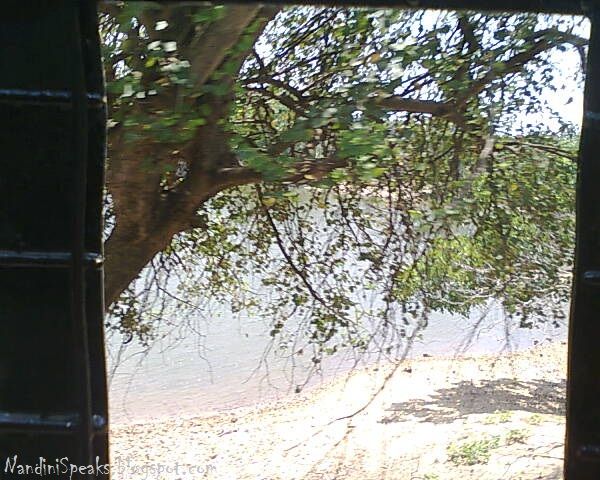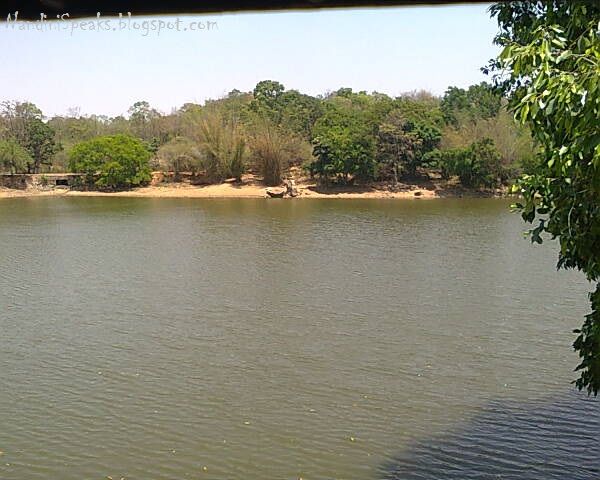 The Water-bodies inside the park!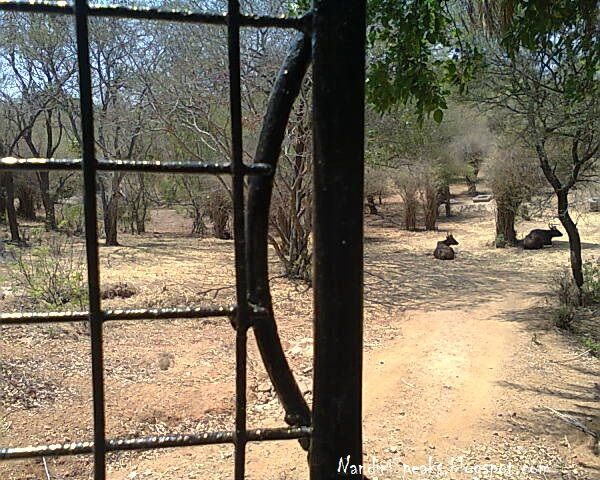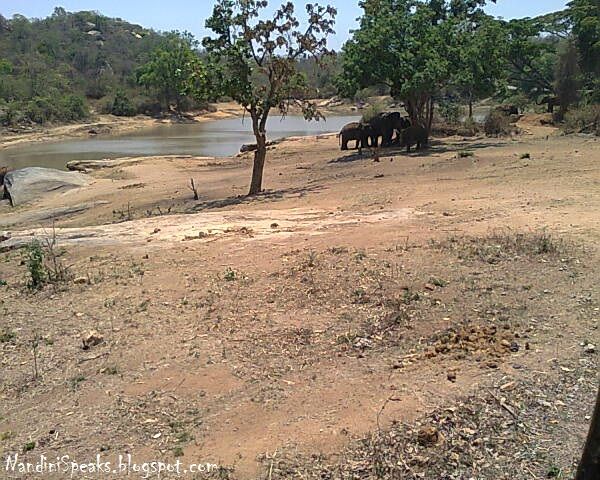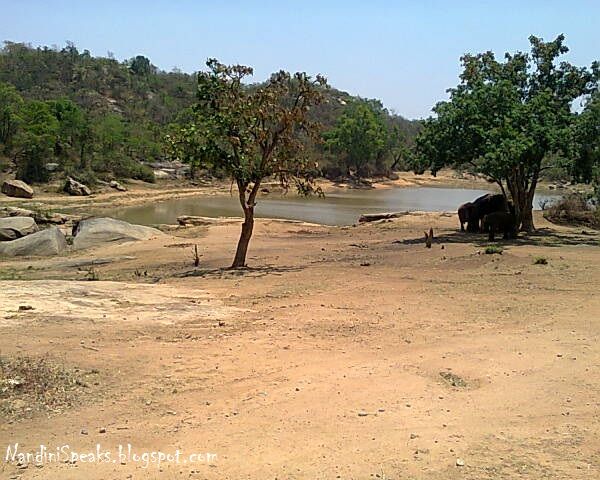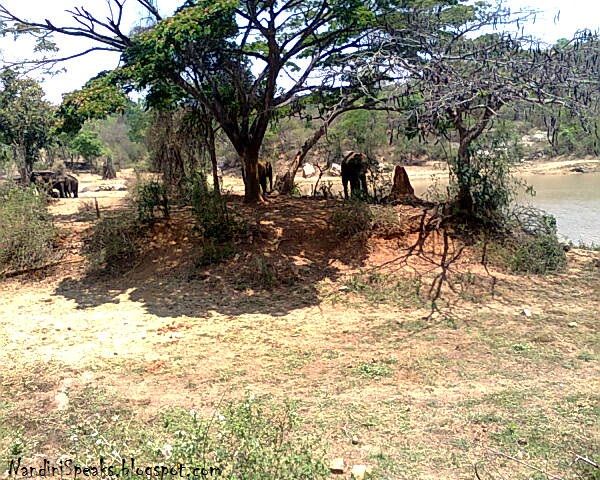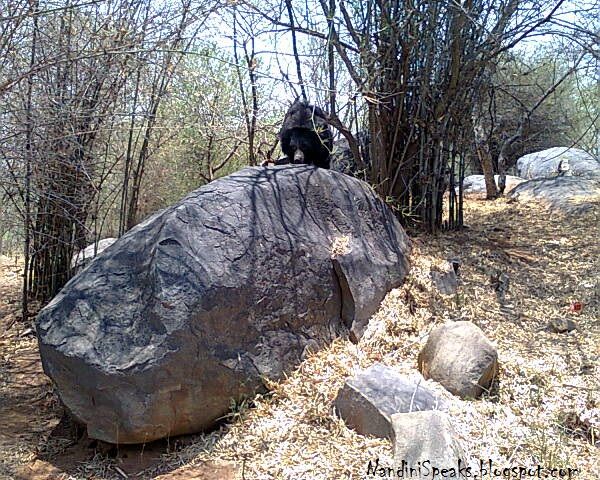 There are different sections in the park for all the animals; all with tall barricades and manned by different people throughout the day. What a life they have :o The animals are free to roam around on their own, in their own space. It was really thrilling to be driven deep inside the park. Seeing the animals added to our fun manifolds, that I was jumping like a kid in excitement whenever I spotted any animal. There's a lake and a river that passes through the park as well. So, in pictures first I spotted wild buffaloes, elephants and bear. We then decided to go for the kill.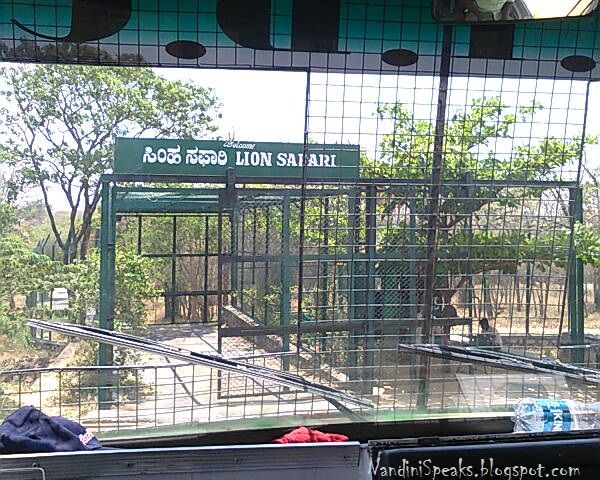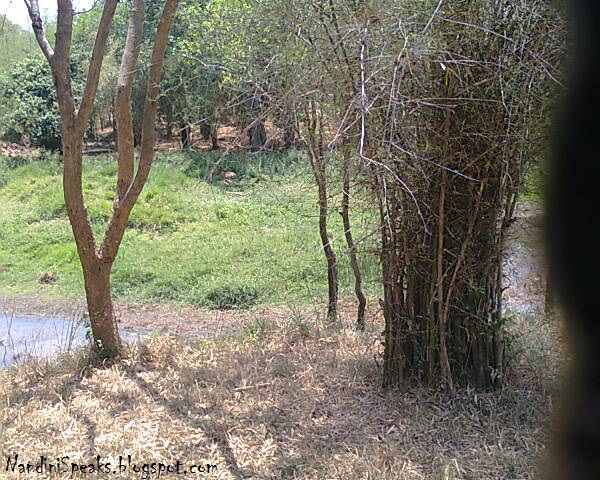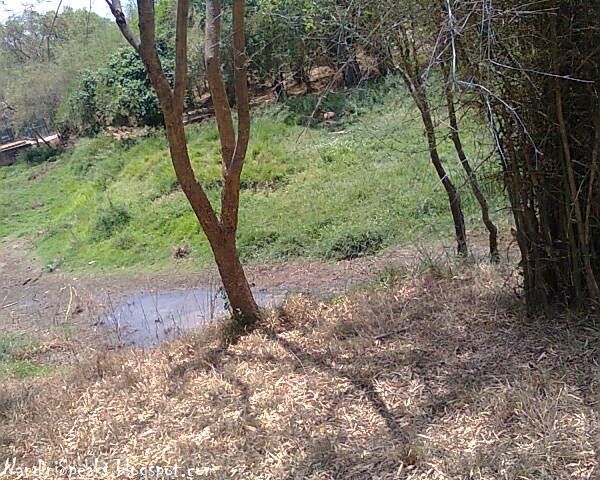 Caught sight of the Lion from a distance- he was sleeping :|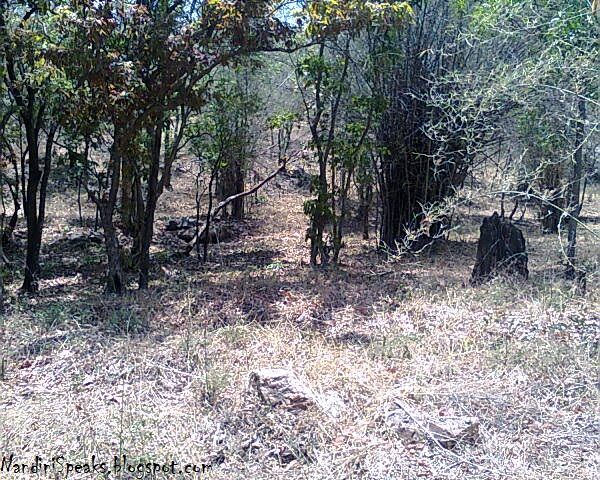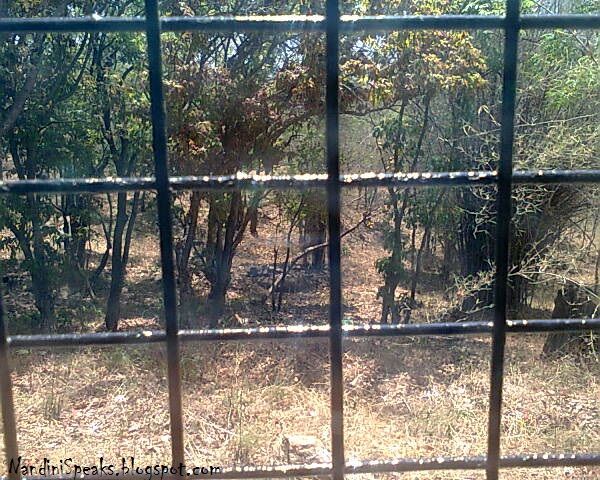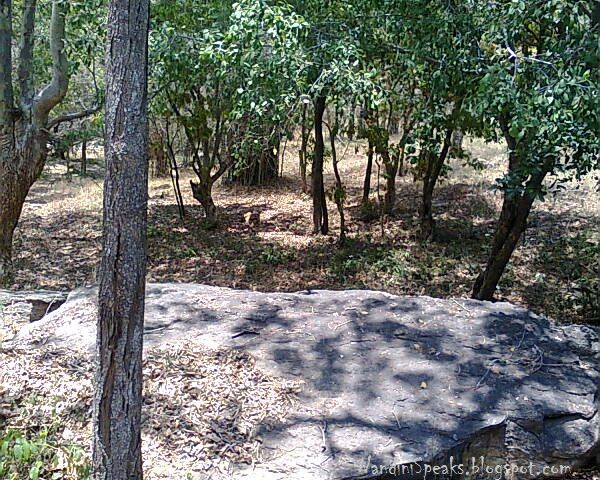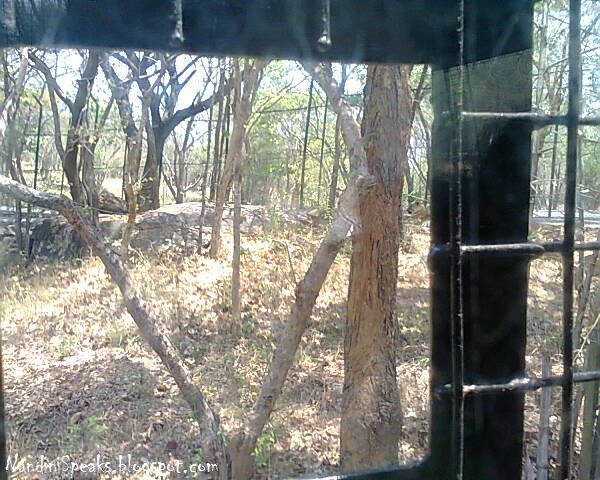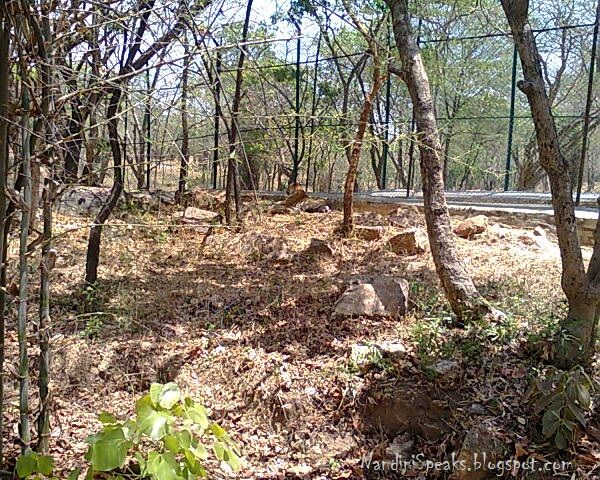 Lazy fellows, they were enjoying their siesta it seems.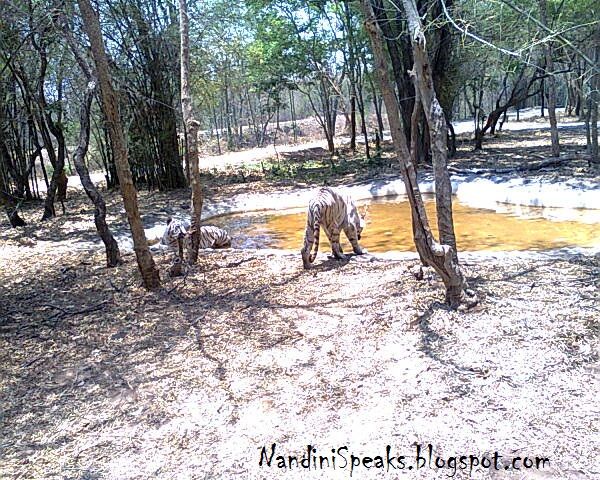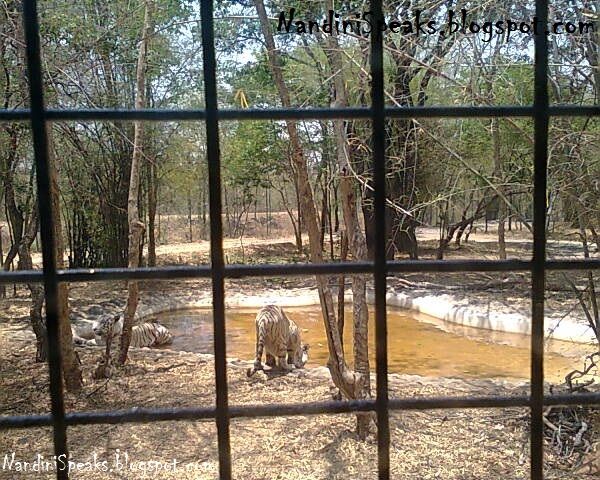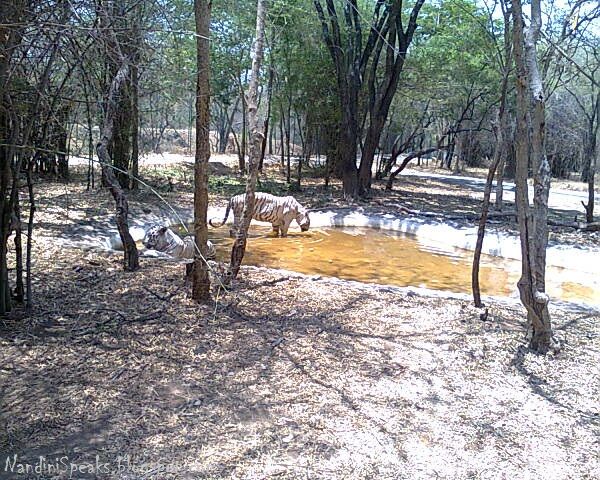 But the white tigers made our day. They were up and about. The bus went really close to them :-)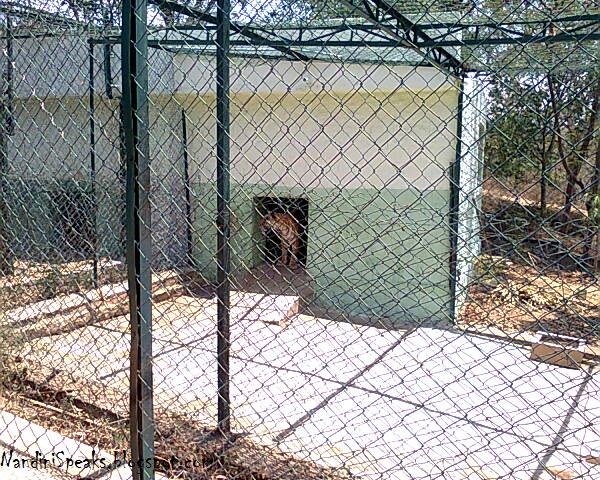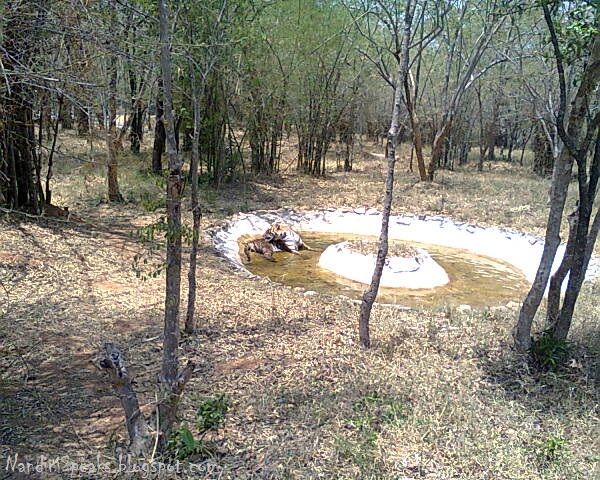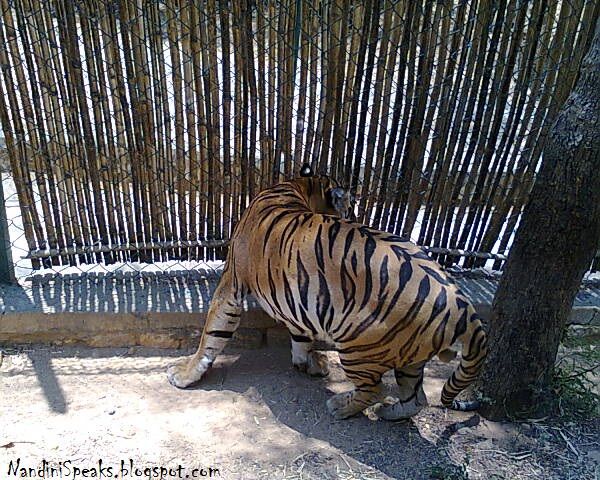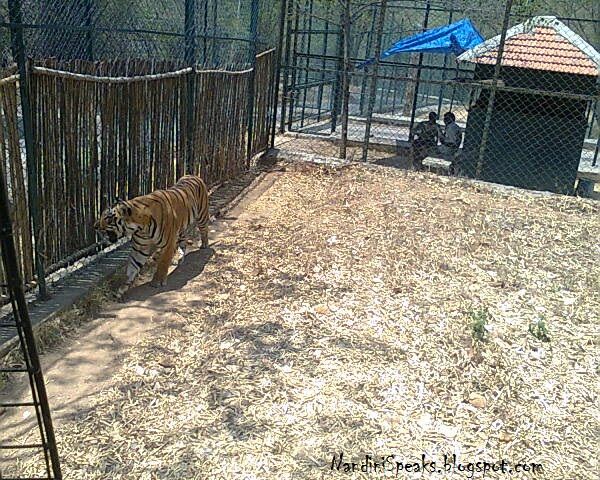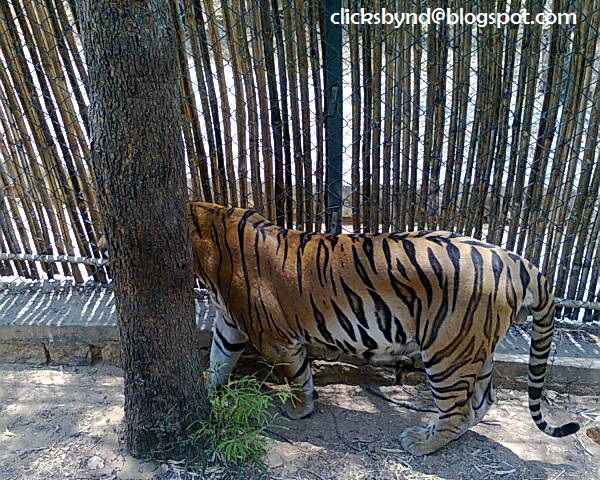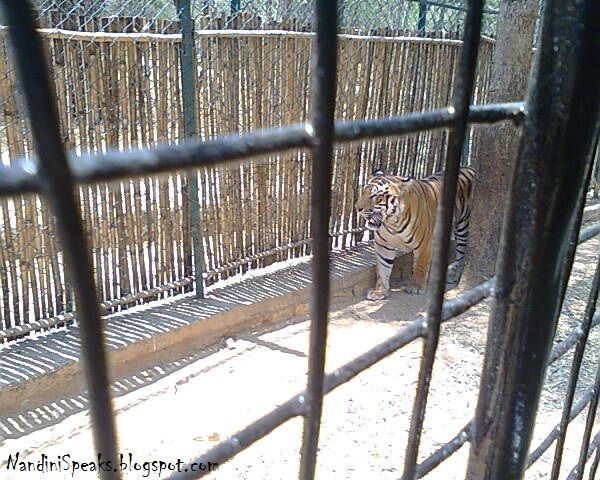 And so did the stripped Royal Bengal Tigers too. Got pretty close to this magnificent one as well.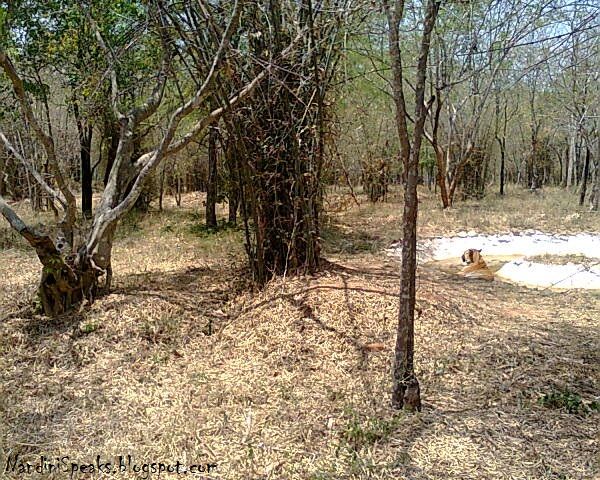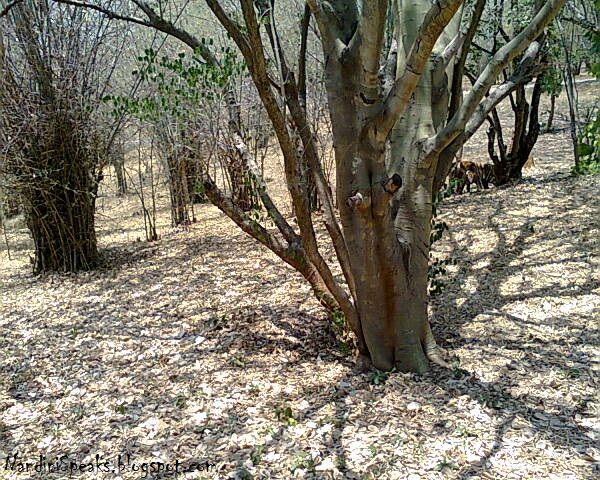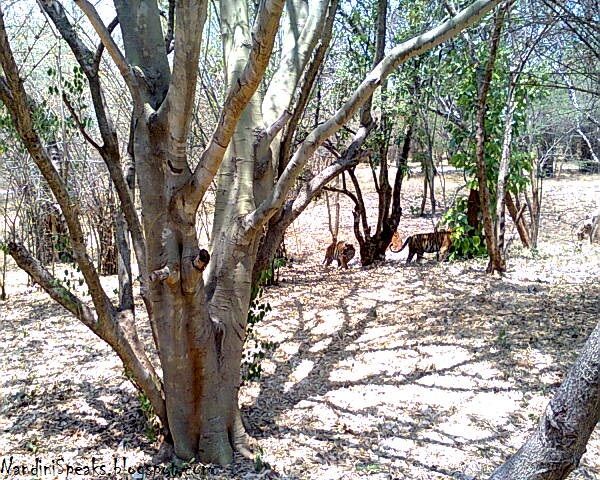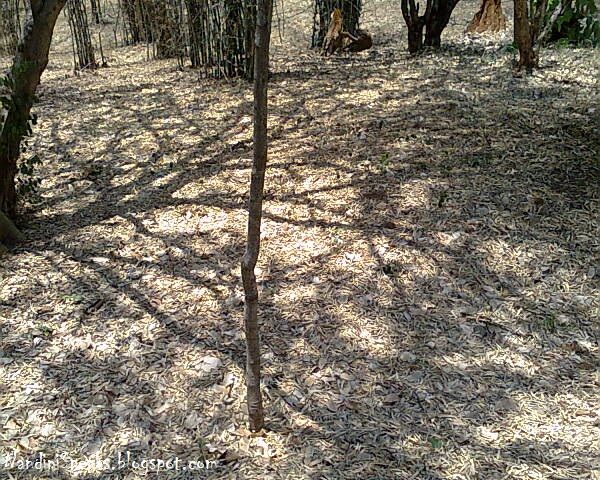 We spotted more and it was way too much fun
especially
the live-fight we got to see between 3 tigers
( love-tiangle? )
. I absolutely loved my safari and would highly recommend it if you ever visit Bangalore - don't miss Bannerghata! But safari done, would I miss my bus again? I waited impatiently for the return bus to arrive. Read my next post to find out what happened next ;-)
Bannerghatta National Park
- near Bangalore, Karnataka, southern India, was founded in 1971 and declared as a national park in 1974. In 2002 a portion of the park, became a biological reserve, the Bannerghatta Biological Park.
Address : Bannerghatta Rd, Bannerughatta, Bengaluru, Karnataka 560083, Karnataka, India
Read next part - Here! Stay tuned for all my road, rail, flight, cruise & walk trips.
( Images - ©Mine. All rights reserved. )
Our Rating Scale is : 1 to 5 = ◕◕◕◕◕ - It was Awesome!
---