Photo Travelogue :
Read first part -
Here
!
Mussoorie is a small town, so all places are quite nearby. Although, it can be a bit confusing for a first timer. But the good thing is, you eventually find your way around. Like, when I was walking the entire Mall Road, whenever I asked any rickshaw-wala how to reach Camel's back road, everyone would point at the opposite direction and say there was another road to it, and that I had come the wrong way. They'd then of course offer me a ride up there for a few bucks. Some did say, there was a road from the Mall road too, but no body was clear about it
( where/how )
. So, as I was too lazy to turn all the way back, I kept walking in the Mall Road itself, hoping, I'd find the elusive way to Camel's back road eventually. But, what I didn't expect was the Mall road itself to end suddenly. I found myself at the edge of the Mall Road. There was no way further ahead. However, on the left, another road went up a steep climb. I decided to follow it, and asked few more shop-owners. Few shook their head, saying there was no such road and that I came the wrong way. Just when I was about to give up, a shop-owner called me back and showed me a secret way, and told me to go via it. He said, that'll I'll reach Camel's back road if I go that way. I was a little hesitant, as earlier he had shaken his head. He pointed again, so I decided to listen to his advice. I followed the directions he gave. There was another small lane
( alley of sorts )
, just near where the Mall road had ended ( in the turning ). It was so narrow, it's only for walking.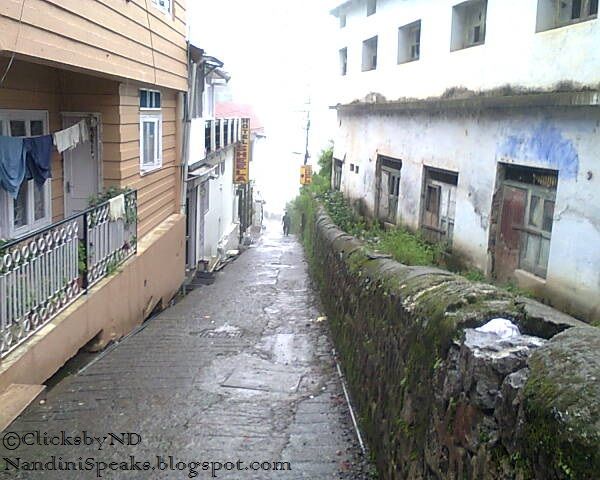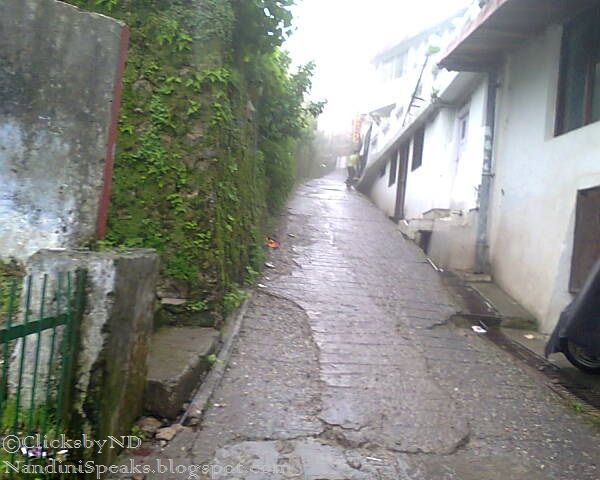 There were houses on both sides of the alley, although, not a single person was around. It seemed bit scary to walk alone in it. But I kept walking, hoping, I was on the right path. Suddenly, I saw a woman coming in my direction, and heaved a sigh of relief. I asked her about Camel's back road, and she told me to just walk on. I was little relieved, as she seemed to be a local. Just when the tiny lane ( that went a steep up and down ) ended, I saw the sign ( see below )!
Finally, I heaved a huge sigh of relief. And I knew the way back too now, in case, something went wrong. I kept walking and nothing really caught my eye. It was all misty, so, everything was kinda blurred. I started wondering if Camel's back road even existed. I finally saw a small tea-stall, at a certain turn of the road, and asked its owner about it. He said, I was looking directly at it. He pointed me towards what looked like another hill. And asked me to wait a while till the clouds cleared. I got chatting with him, and did as he asked - waited. After a while, the clouds did clear a bit and I got the first glimpse of it. The shape of the hill was like a Camel's back, there was also a rock of same shape. Phew...happily I clicked pictures. The tea-stall owner told me to come in October to get best views of Mussoorie. I loved the little chat with him. He was too eager to be my guide in Mussoorie. Finally, I took another glance at the hill and decided to return.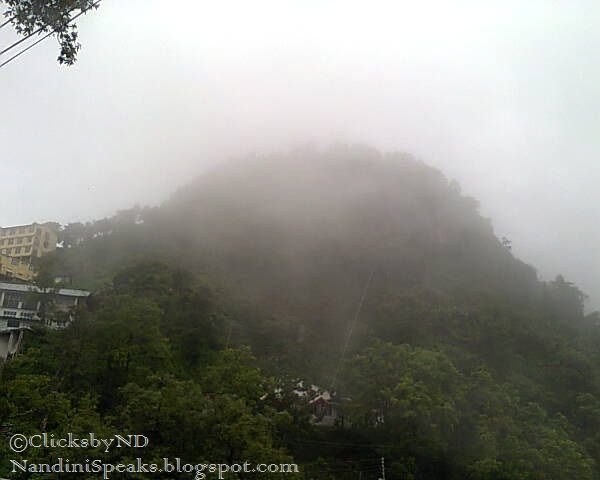 Middle pic i.e of the Camel's back, is from google as I couldn't get clear a pic that day :s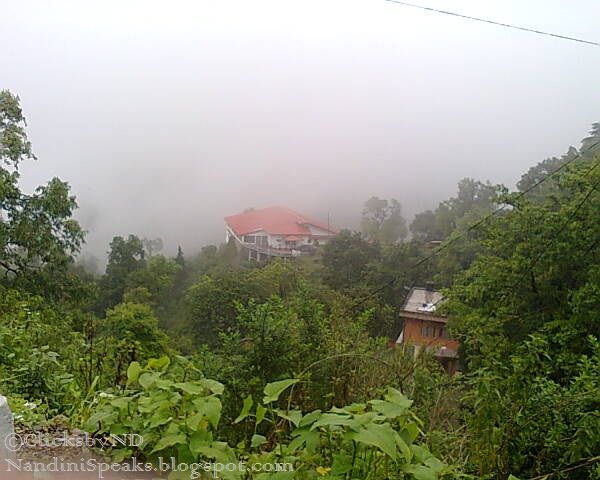 Camel's back road is a very nice place to walk, with lovely views around. Best thing is there aren't many noisy vehicles plying, which makes the experience so pleasant. I loved it.
Address : Camels Back Rd, The Mall Rd, Mussoorie, Uttarakhand 248179
Read next part - Here! Stay tuned for all my road, rail, flight, cruise & walk trips.
( Images - ©Mine. All rights reserved. )
Our Rating Scale is : 1 to 5 = ◕◕◕◕◕ - It was Awesome!
---