Photo Travelogue :
Read first part -
Here
!
Hola...I'm back from my brief hiatus. I was so busy in the off-line world;
plus
with very limited connectivity, I simply didn't get enough time to do what I love doing most ~ blog. Anyways, here's continuing where we left off.
The journey continues...
As I wrote in my last post
( of the series )
, there was a particular reason why I was in Mussoorie. To visit the Savoy ~ one of most haunted hotels/places, in India ( and world ). It has an almost bizarre ( murder )
history
( mystery ) attached to it; almost unbelievable one at that, but, nonetheless, one enough to give you the chills. My travels must include a visit to the location's most spookiest place(s)
( am a die-hard spook fan after all )
, and so, The Savoy was on my agenda, right from the word go. However, on going there, I realized making the mistake of not taking prior permission from the hotel's authorities and
hence
met with few obstacles in achieving my purpose. But, as you know, when one door closes, God opens another one. And he did this time too - read on how...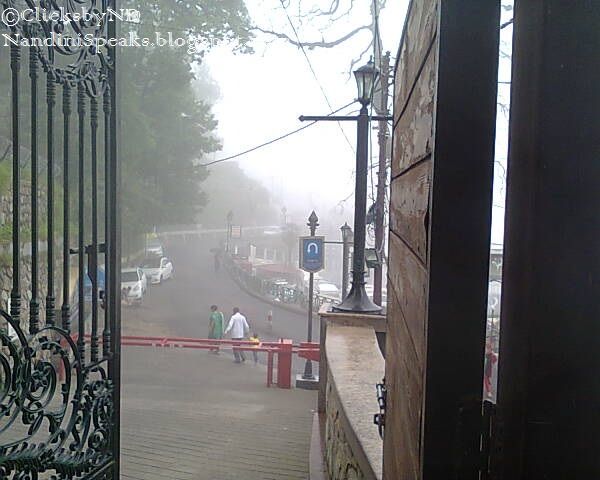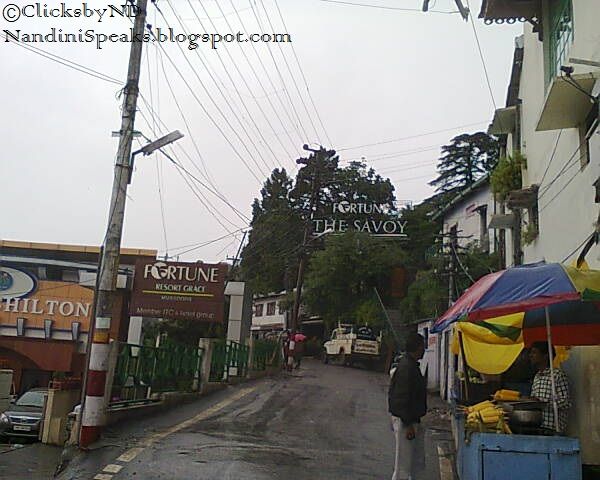 When I landed in the main bus depot ( tempos/sumos too halt there ), just a few steps ahead stood the famous Mussoorie Library. It was the Savoy's restaurant once
in the past
, so, the hotel must be somewhere behind, I thought. The hotel is not visible from outside. It is hidden further up the hill. I had seen a huge glow-sign
( from the depot onwards itself )
, and immediately knew my hunch was right. So, I walked ahead towards right
( on the road that leads to Kempty Falls )
, and right in the corner
( on left )
was the huge gates of The Savoy. I was excited as hell. So, confidently, I walked towards the entrance. However, the guards stopped me. Eh...I thought. Let me get in, I wanted to yell. He made few inquiries as to who or what I wanted to visit. I said, its a historic place and since I cover interesting places in my travels I wanted to capture the hotel too and write about it. So, calls between the entrance gate's intercom and the reception/lobby soon followed, as the guard took permission from those inside, whether to let me in. I repeated the story with a certain gentleman who spoke from reception. He agreed to let me in at first, but later, refused saying he doesn't have full authority to grant me access to take photographs of the premises. That I should take permission from the higher-ups. Phew...my hopes started dwindling and my entire mission started collapsing before my very eyes. I wanted to push my way in, as it was not everyday that I'd be going there
( the gentleman had asked me to try next time, duh! )
. Finally, the size of the guard stopped me from pushing past him further to meet with the famous ghosts in the hotel :| I felt like a nosy paparazzi that time, only the celebs I was stalking were the ghosts, lol. *Sigh* Anyways, thus, I started to retreat and started covering rest of Mussoorie's attractions instead. But my heart was still lurking somewhere back in the Savoy the entire time. Later on I realized, it'd have been easier to tell them I wanted to visit the hotel's restaurant for lunch, and they'd have obliged as a guest or customer. Duh! Stupid me.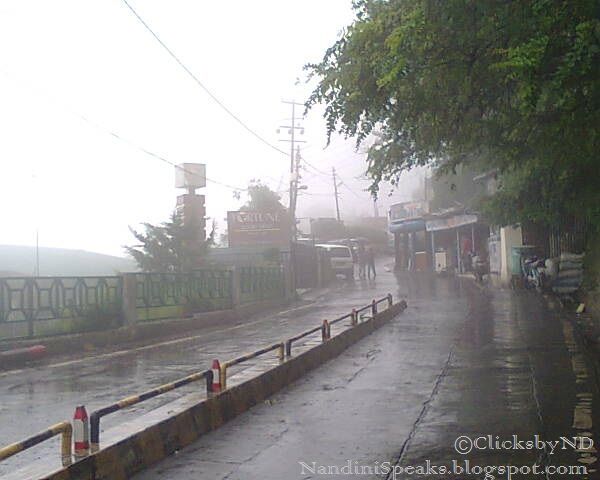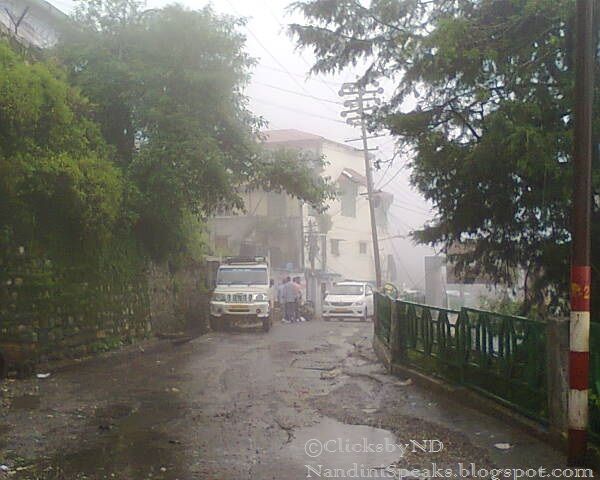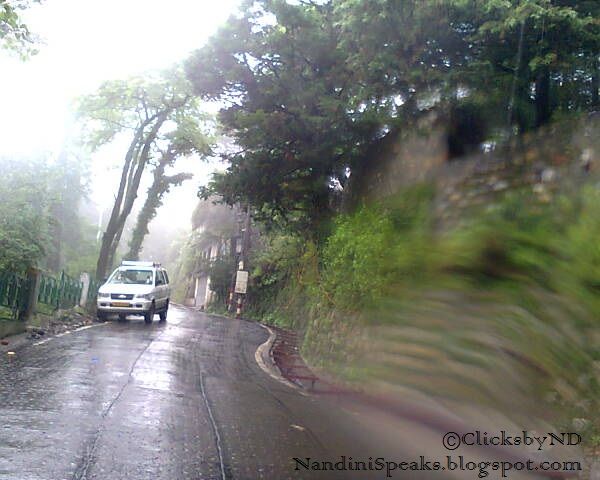 I was in Mussoorie the entire day, and soon it was time to head back. I was to catch the last bus
( around 5pm )
, back to Dehradun and then to Haridwar. There was still about fourty minutes or so left and I stood opposite the massive Mussoorie Library
( near the bus stop )
wondering if I'd have any luck at all that day. I had a great time wandering round the hill-station, but my main purpose was still left incomplete. Then, I remembered the glow-sign which I had seen earlier. Interestingly, it was on the left road, I noticed, which I hadn't gone on yet. What's the harm I thought, and decided to go left this time. I walked uphill, passing by some of Fortune's other properties. Then, on right, a red signboard caught my attention. There were some old structures in the hill, where the signboard was. It read -
Savoy Hotel
. I wondered if there was another entrance to the hotel, and kept walking curiously. Then, after a while, I indeed came upon a huge gate. Only this time, there was a stark difference. This gate/entrance was not as posh or grand like the previous one. Maybe, it was for the staff and not guests, hence, the condition was not as swanky. It actually looked very quaint and spooky. I saw a lone guard sitting under the trees in a steel chair, not far from the opening, and knew this was my chance. I made a go for it, instantly. Fortunately, he turned out to be a friendly and quiet talkative fellow.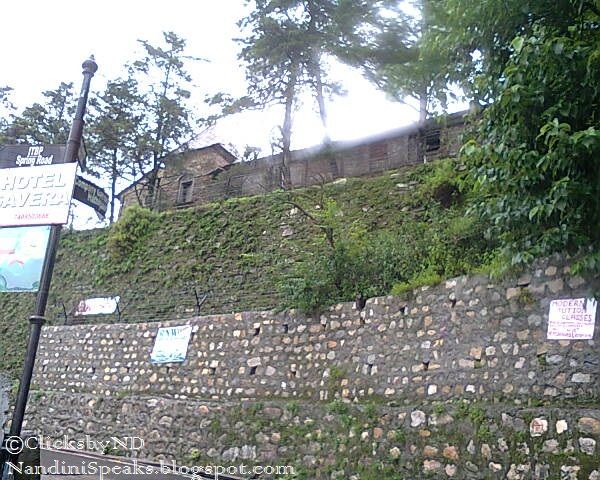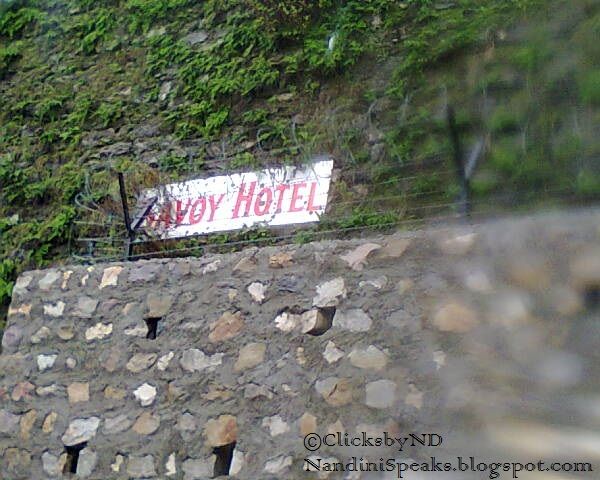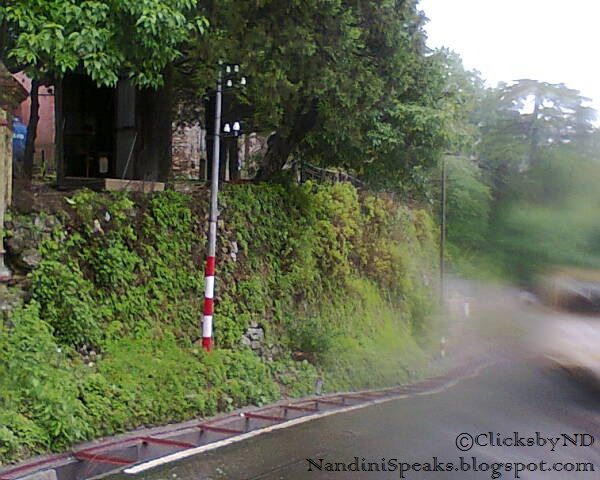 I asked him, if it was the famous Savoy we keep hearing about or saw on TV. He said, it indeed was. Then, I asked him if the spooky rumours around it were true. He told me the murder story related to it and also confirmed its spookiness. In his own words - '
Kya sahi hai. Ha bilkul sahi hai. Ha hota rahta hai. Abhi bhi. Bohot logon ne dekha hai. Middle block mei ek area hai' shows with this hand, 'jo ab locked hai. Piche side servants quarters hai. Log waha se gujarte rahte hai, tab dekha hai. Par waha koyi nahi jata, jo area bandh hai, kyunki ajeeb ghatnayein hoti hai waha.
' He pointed to the building just behind, and said, it happened everywhere. Even he had seen and felt the eeriness often. I asked, how he sat alone in that spooky area and he just shrugged, that it was his job after all. He so enthusiastically told me all the stories, that had I been in not such a hurry, he'd have continued merrily. I look several pictures of the rear side of Savoy which is not renovated like the front part, and still resembles like it did in the past. And oh, the guard too posed for me. Can you see something behind him? Look in that balcony. I regret not being able to spend time alone in the premises ( like I usually prefer ), to experience the spook myself, but whatever little I got to experience on the historical grounds was so worth it as well.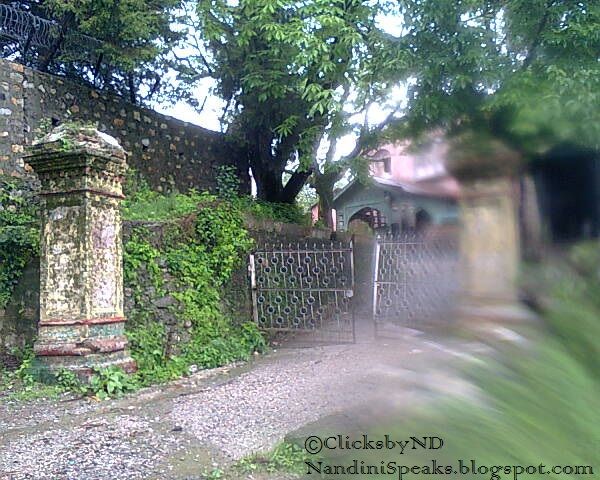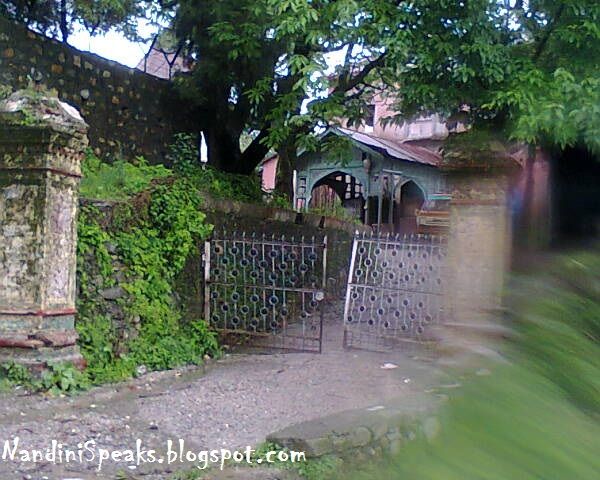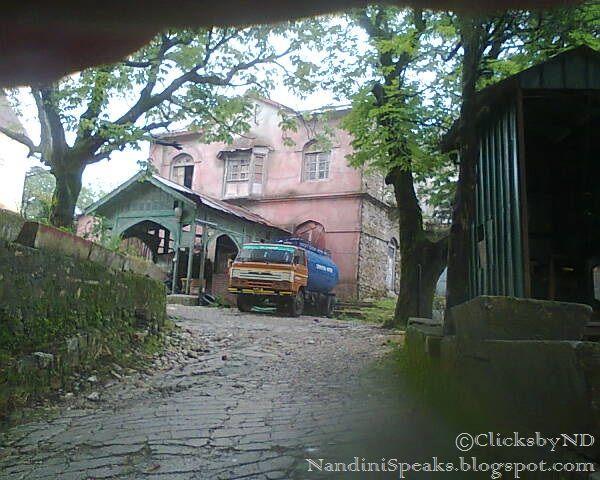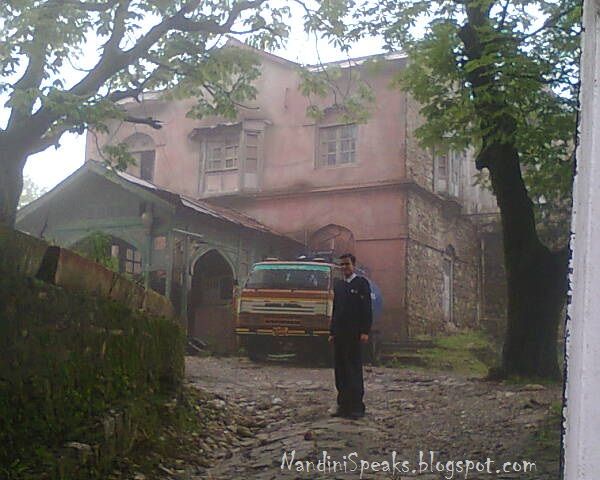 After spending rest of the remaining time in the Savoy grounds, chatting up the guard, I finally headed back. I had a eerie feeling of being watched from some of the rooms in the hotel, as I made my way back to the plains. The feeling continued as I retired for rest of the night at my Haridwar hotel room. Note : I wished I could go to the famous haunted Lambi-Dehar mines of Mussoorie
( in its outskirts, near Landour area )
and a certain death-pit corner
( on same route, where accidents used to occur frequently )
too that day, but it was too late. Maybe, some other time :-)
Address : Library Bazar, Gandhi Chowk, Mussoorie, Uttarakhand - 248179
Read next part - Here! Stay tuned for all my road, rail, flight, cruise & walk trips.
( Images - Except 1st, all are ©Mine. All rights reserved. )
Our Rating Scale is : 1 to 5 = ◕◕◕◕◕ - It was Awesome!
---